Government of the people, by the elected officials and appointed bureaucrats, for the elected officials, appointed bureaucrats and special interest groups that helped them get into power – Michael Kaery
Source
New Election, New Emperor, Nothings changed, its still the same!
Government of the people, by the elected officials and appointed bureaucrats, for the elected officials, appointed bureaucrats and special interest groups that helped them get into power – Michael Kaery
Yea sure sometime tomorrow night we will have elected a new Emperor and the evil Emperor George W. Bush will soon be history. But in reality nothing will have changed and government after the election will be just the same as government before the election.
John McSame is often used to say McCain is the same as Bush. But there isn't a dimes difference between John McSame and Obama. After all John McCain and Barack Obama both voted to give the rich Wall Street brokers and bankers a $700 billion hand out of corporate welfare. John and Barack both voted to steal $2,333 from every man, woman and child in the USA and give it to rich Wall Street brokers and bankers. Since children don't pay taxes John McCain and Barack Obama both voted to steal about $5,000 from every adult in America and give it to rich Wall Street brokers and bankers.
Obama and McCain both talk about bring change to America. The only change they will bring to America is the change in your bank account when they loot it and give it to the special interest groups that helped get them elected.
The only other change will be an already shredded Bill of Rights will trashed as your rights are destroyed so they can hire more Homeland Security thugs to protect you from imaginary terrorists.
Of course if Thomas Jefferson and his buddies were around today they would not be voting the election, they would be out with their guns hunting down and killing the enemy just like they did to King George!
Yea, new election, new Emperor, but nothing has change.
---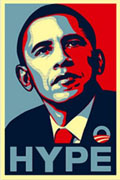 Source
Antiwar groups fear Barack Obama may create hawkish Cabinet
Activists note that most of the candidates for top security posts voted for the 2002 resolution authorizing President Bush to invade Iraq or otherwise supported launching the war.
By Paul Richter
November 20, 2008
Reporting from Washington -- Antiwar groups and other liberal activists are increasingly concerned at signs that Barack Obama's national security team will be dominated by appointees who favored the Iraq invasion and hold hawkish views on other important foreign policy issues.
The activists are uneasy not only about signs that both Sen. Hillary Rodham Clinton (D-N.Y.) and Defense Secretary Robert M. Gates could be in the Obama Cabinet, but at reports suggesting that several other short-list candidates for top security posts backed the decision to go to war.
"Obama ran his campaign around the idea the war was not legitimate, but it sends a very different message when you bring in people who supported the war from the beginning," said Kelly Dougherty, executive director of the 54-chapter Iraq Veterans Against the War.
The activists -- key members of the coalition that propelled Obama to the White House -- fear he is drifting from the antiwar moorings of his once-longshot presidential candidacy. Obama has eased the rigid timetable he had set for withdrawing troops from Iraq, and he appears to be leaning toward the center in his candidates to fill key national security posts.
The president-elect has told some Democrats that he expects to take heat from parts of his political base but will not be deterred by it.
Aside from Clinton and Gates, the roster of possible Cabinet secretaries has included Sens. John F. Kerry (D-Mass.) and Richard G. Lugar (R-Ind.), who both voted in 2002 for the resolution authorizing President Bush to invade Iraq, though Lugar has since said he regretted it.
"It's astonishing that not one of the 23 senators or 133 House members who voted against the war is in the mix," said Sam Husseini of the liberal group Institute for Public Accuracy.
Clinton, who was Obama's chief opponent during the Democratic presidential primaries, appears to be the top candidate for secretary of State in his administration. Speculation about Clinton has dismayed some liberal activists but has cheered some conservatives such as former Secretary of State Henry Kissinger and editor William Kristol of the Weekly Standard.
Clinton voted in favor of the Iraq war resolution, and despite pressure, she never said during the primary campaign that she regretted that vote. She also favored legislation last year to support the designation of Iran's Revolutionary Guard Corps as a terrorist organization, another decision that pleased conservatives.
In a move to advance her candidacy, Clinton's husband, former President Clinton, has agreed to take steps to avoid conflicts of interest posed by his far-flung financial dealings, Democrats close to the discussions said Wednesday.
Bill Clinton has agreed to check with the Obama administration before giving a paid speech. He also has agreed to disclose the sources of new contributions to his charitable enterprise, the William J. Clinton Foundation, those close to the matter said on condition of anonymity.
He also is trying to devise a way to share the identity of past donors, a touchy matter because some contributors do not want their identities divulged, said one Democrat.
Knowledgeable Democrats say that Gates is under consideration to remain in his post for at least several months even though he frequently has said he wants to return to private life when the Bush administration leaves office.
Activists note that Vice President-elect Joe Biden, also expected to be a leading voice in the new administration's foreign policy, voted for the 2002 war resolution.
Another possible contender for the diplomatic post, former U.S. diplomat Richard C. Holbrooke, also backed the Iraq invasion.
Kevin Martin, executive director of the group Peace Action, said that although Obama had campaigned as an agent of change, the president-elect is "a fairly centrist guy" who appears to be choosing from the Democratic foreign policy establishment -- "and nobody from outside it."
"So, in the short term, we're going to be disappointed," he said. "They may turn out to be all pro-war, or at least people who were pro-war in the beginning."
Martin said that his group was concerned about Gates and Clinton as well as Rahm Emanuel, Obama's choice for White House chief of staff. He also said his group was trying to mobilize its grass-roots supporters with e-mail alerts, but recognized that it must approach the subject delicately because of public euphoria over Obama's historic victory.
"There's so much Obama hero worship, we're having to walk this line where we can't directly criticize him," he said. "But we are expressing concern."
Peace Action urged in a letter for its members to speak up because "we can be sure that the Obama team is under pressure to dial back plans to withdraw from Iraq."
Despite concerns, some groups are trying to remain conciliatory.
Tom Andrews, national director of Win Without War, said that although he finds Sen. Clinton's views "very troubling," Obama should be given the benefit of the doubt.
"I take him at his word that he is committed to ending the occupation of Iraq in 16 months and that he's going to assemble a team that's committed to that goal," Andrews said.
Obama campaigned on a promise to remove all combat troops from Iraq in 16 months, or roughly one brigade a month.
Since winning the White House, Obama has affirmed his pledge to remove the troops but has left himself some flexibility on the withdrawal timetable.
In an appearance on CBS' "60 Minutes" on Sunday, Obama promised a troop pullback but described it in broad terms.
"I've said during the campaign, and I've stuck to this commitment, that as soon as I take office, I will call in the Joint Chiefs of Staff, my national security apparatus, and we will start executing a plan that draws down our troops," the president-elect said.
Richter is a writer in our Washington bureau.
paul.richter@latimes.com
Times staff writer Peter Nicholas in Washington contributed to this article.
---
---
Steve Benson Cartoon in Arizona Republic 11/20/2008 - Obama is just 4 more years of Clinton!
Bush, Obama, McCain, Clinton ain't no difference they are all the same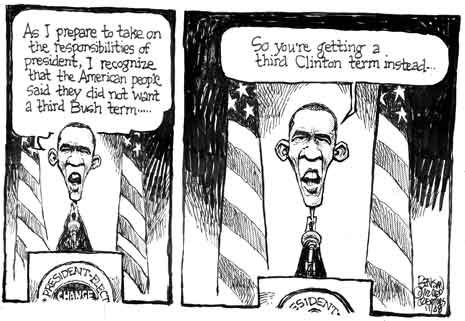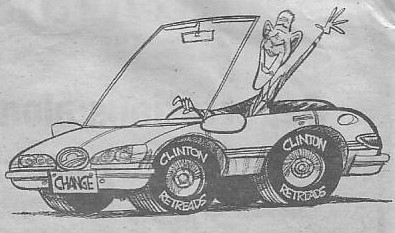 ---
Napolitano Is No Stranger to Washington Scandals
By THE ASSOCIATED PRESS
Published: November 20, 2008 Filed at 12:13 p.m. ET
WASHINGTON (AP) -- President-elect Barack Obama's likely pick for Homeland Security secretary, Janet Napolitano, is no stranger to headline-making Washington scandals and controversies.
Napolitano was a Clinton-appointed U.S. attorney in Phoenix when the Justice Department decided against prosecuting Arizona Republican Sen. John McCain's wife, Cindy, for the theft of prescription drugs from her medical charity.
Mrs. McCain went public in 1994 about her prescription drug addiction, admitting she stole medicine from the charity several times between 1990 and 1992. A doctor wrote prescriptions at her direction for medical missions around the world, and she sometimes increased the amounts, keeping some for herself. The Justice Department decided against prosecuting Mrs. McCain after she agreed to undergo drug treatment. She said in 1994 that she had kicked her addiction.
While at a Phoenix law firm in 1991, Napolitano was part of the legal team representing Anita Hill, a former Equal Employment Opportunity Commission colleague of Supreme Court nominee Clarence Thomas who accused Thomas of sexual harassment. Hill's accusations jeopardized but ultimately failed to derail the Senate's confirmation of Thomas.
Napolitano's representation of Hill became an issue in 1993 when the Senate considered Clinton's nomination of Napolitano for the U.S. attorney's job. Napolitano refused to answer questions about a private conversation with one of Hill's witnesses, Susan Hoerchner. At issue was whether Napolitano persuaded Hoerchner, Hill's corroborating witness, to change her testimony.
Hoerchner initially told the Senate Judiciary Committee during its Thomas hearings that Hill had told her in the early 1980s that she had been sexually harassed by Thomas. After Napolitano requested and had a private conversation with her, Hoerchner told the committee she wasn't certain of the date Hill told her about the alleged harassment. Napolitano said she couldn't answer questions about the talk because Hoerchner wouldn't waive her right to confidentiality.
Some Republicans accused Napolitano of stonewalling the committee and argued it could cause a dangerous precedent if the panel confirmed a nominee without having all the information it needed. Democrats defended her, saying Napolitano wanted to be forthcoming but couldn't due to attorney-client privilege.
Some senators said at the time that Hoerchner had admitted before talking with Napolitano that she was just guessing about the date Hill first said she'd been harassed by Thomas. A book published after the Thomas hearings said the date Hoerchner guessed, September 1981, was before Hill went to work for Thomas.
---
Three Senators Still Hope For Auto Rescue Deal
By REUTERS Published: November 20, 2008 Filed at 12:23 p.m. ET
Skip to next paragraph WASHINGTON (Reuters) - Three U.S. senators were still working on a bipartisan bill to assist the automotive industry and hoped to reach a deal, a Democratic Senate aide told Reuters on Thursday.
"They're working on a bipartisan bill and hoping to reach an agreement soon," the aide said.
But chances of passing legislation were slipping away quickly, said other aides.
The three involved in discussions are Michigan Democrat Carl Levin, Missouri Republican Christopher Bond and Ohio Republican George Voinovich, the aide said.
U.S. automakers General Motors, Ford Motor and Chrysler have been pleading for $25 billion in emergency government aid to weather a steep business downturn. The CEOs of all three companies testified before two congressional committees this week, but came away empty-handed.
The White House continues to favor using $25 billion already authorized and appropriated through the Energy Department to provide loans for ailing automakers.
Democratic leaders in Congress have argued for carving out $25 billion from the $700 billion financial rescue fund.
Even if a deal is struck among Senate negotiators, the legislation faces hurdles. There would have to be agreement among all 100 senators, which is rare, to allow the bill to come to a quick vote in the Senate.
If that agreement is not reached, the earliest a vote might come is on Saturday and it was unclear if lawmakers would stay in Washington that long ahead of the November 27 Thanksgiving holiday.
Plus, any bill likely would need at least 60 votes to overcome anticipated procedural hurdles by opponents.
Also unclear is whether the House of Representatives would stay in session late this week.
Another possibility is a vote on an auto bill sometime after the Thanksgiving holiday. Earlier this week, House Speaker Nancy Pelosi ruled out a post-holiday session. But Senate Majority Leader Harry Reid said he would talk to Pelosi later on Thursday about having another short work session.
(Reporting by Kevin Drawbaugh; additional reporting by Richard Cowan and John Crawley; Editing by Tim Dobbyn)
---
---
Obama team repackaging Clinton after campaign digs
AFP WASHINGTON – It wasn't too long ago that Barack Obama and his advisers were tripping over one another to tear down Hillary Rodham Clinton's foreign policy credentials. She was dismissed as a commander in chief wanna-be who did little more than sip tea and make small talk with foreign leaders during her days as first lady.
"What exactly is this foreign policy experience?" Obama said mockingly of the New York senator. "Was she negotiating treaties? Was she handling crises? The answer is no."
That was in March, when Clinton was Obama's sole remaining rival for the Democratic presidential nomination.
Now, Clinton is on track to become Obama's secretary of state.
And, unsurprisingly, the sniping at her foreign policy credentials is a thing of the past.
Obama adviser William Daley over the weekend said Clinton would be "a tremendous addition to this administration. Tremendous."
Senior adviser David Axelrod called Clinton a "demonstrably able, tough, brilliant person."
Last spring, though, Clinton was targeted with a steady stream of criticism via conference call, e-mail and campaign-trail digs from the Obama camp, all aimed at shredding her self-portrait as an experienced and confident leader on the international stage. Some of those doing the sniping will be taking up key positions — most likely along with Clinton — in the new Obama administration.
Greg Craig, selected to serve as White House counsel in the Obama administration, delivered a withering attack during the primaries on Clinton's claims that she could rightfully share in the credit for some of the foreign policy successes of her husband's presidency.
"She did not sit in on any National Security Council meetings when she was first lady," Craig insisted in one conference call. He went on to knock down Clinton's claims to influence in the Northern Ireland peace process, opening borders for refugees during the war in Kosovo, and making a dangerous visit to Bosnia.
"There is no reason to believe ... that she was a key player in foreign policy at any time during the Clinton administration," Craig wrote in a campaign memo.
Susan Rice, an Obama adviser who could land a spot in the new administration, mocked the idea that Clinton could lay claim to foreign policy credentials by marriage.
"There is no crisis to be dealt with or managed when you are first lady," Rice sniffed last March. "You don't get that kind of experience by being married to a commander in chief."
Clinton was only too happy to make light of Obama's own foreign policy credentials, suggesting his biggest selling point was a 2002 speech against going to war with Iraq. "Many people gave speeches against the war then," she said in a February debate.
Robert Gelbard, an adviser to the Obama campaign on foreign policy who worked in the Clinton administration, said in March that Clinton had more involvement in foreign policy than a lot of first ladies, but added that "her role was limited and I've been surprised at the claims that she had a much greater role."
Well, never mind about all of that now.
"That was then; this is now," said David Gergen, who has served as an adviser to both Republican and Democratic presidents. "Campaigns are ever thus."
"Generally speaking," Gergen said, "there is a recognition that campaigns bring a certain amount of hyperbole, and when it's over you try to find the most talented people you can find to work with you."
Clinton may not have been at the table when her husband made the big decisions, Gergen said, but "she's been imbibing questions on foreign policy and decision-making since 1992."
A spokesperson for the Obama transition team declined to comment on the shift in tone.
It also should be said that some of the wounds to Clinton's foreign policy credentials during the primaries were self-inflicted, most famously her inflated account of the drama associated with a visit she made to Bosnia.
"I remember landing under sniper fire," she recounted in a speech. "There was supposed to be some kind of a greeting ceremony at the airport, but instead we just ran with our heads down to get into the vehicles to get to our base."
Soon enough, video footage surfaced of Clinton's unremarkable airport arrival ceremony, where she was welcomed by dignitaries and posed for photos with children.
Clinton brought up the Bosnia trip to counter Obama's suggestion that her experiences as first lady amounted to having tea at an ambassador's house.
"I don't remember anyone offering me tea," she said of the Bosnia visit.
Clinton, in an April debate, blamed her Bosnia gaffe on campaign fatigue. But she did not back away from her claim to broad foreign policy experience as first lady.
"I was not as accurate as I have been in the past," she said. "But I know, too, that being able to rely on my experience of having gone to Bosnia, gone to more than 80 countries, having represented the United States in so many different settings, gives me a tremendous advantage going into this campaign."
Well, maybe not in the campaign, as it turned out.
But maybe, just perhaps, as secretary of state.
---
Doesn't look like anything has changed with Obama!
December 12, 2008
Gates says more GIs will head to Afghanistan
Dec. 12, 2008 12:00 AM
Associated Press
MANAMA, Bahrain - The U.S. military will pour thousands of troops into Afghanistan by next summer and can expect to commit a sustained force for several more years, Defense Secretary Robert Gates and his top military commander there said Thursday.
Visiting Afghanistan for the second time in the past four months, Gates got a short but intensive look at the leading military priority facing him and the incoming Obama administration in the coming months.
Just before his Kandahar meeting with Gen. David McKiernan, commander of U.S. and NATO troops in Afghanistan, Gates said the Pentagon is moving to get three of the four combat brigades requested by commanders into Afghanistan by late spring or early summer. In his most specific comments to date about how soon he will meet the call for up to 20,000 more troops in Afghanistan, Gates said he will not have to cut troop levels further in Iraq to free up at least two of those three brigades for Afghan duty.
When the additions are complete, the number of U.S. troops in Afghanistan will climb to more than 50,000. About 31,000 U.S. troops are there now.
Standing outside the military's headquarters for southern Afghanistan, Gates was surrounded by evidence of the coming buildup.
Everywhere he turned, swaths of lands within the compound were crowded with construction equipment.
"This is a long fight, and I think we're in it until we are successful along with the Afghan people," Gates said.
"I do believe there will be a requirement for sustained commitment here."
---
Dec 19, 11:27 AM EST
Bailout approved: Automakers to get $17.4B
By DEB RIECHMANN
Associated Press Writer
WASHINGTON (AP) -- Citing danger to the national economy, President Bush approved an emergency bailout of the U.S. auto industry Friday, offering $17.4 billion in rescue loans in exchange for tough concessions from the deeply troubled carmakers and their workers.
The government will have the option of becoming a stockholder in the companies, much as it has with major banks, in effect partially nationalizing the industry.
At the same time, Treasury Secretary Henry Paulson said Congress should release the second $350 billion from the financial rescue fund that it approved in October to bail out huge financial institutions.
Tapping the fund for the auto industry basically exhausts the first half of the $700 billion total, he said.
Allowing the U.S. auto industry to collapse in the middle of what is already a severe recession is not a responsible course of action, Bush said.
"It would worsen a weak job market and exacerbate the financial crisis," Bush said. "It could send our suffering economy into a deeper and longer recession. And it would leave the next president to confront the demise of a major American industry in his first days of office."
President-elect Barack Obama, who takes office a month from Saturday, praised the White House move.
"Today's actions are a necessary step to help avoid a collapse in our auto industry that would have devastating consequences for our economy and our workers," he said. "With the short-term assistance provided by this package, the auto companies must bring all their stakeholders together - including labor, dealers, creditors and suppliers - to make the hard choices necessary to achieve long-term viability."
---
Bush comes to rescue of auto industry with short term loans
Dec. 19, 2008 07:40 AM
Associated Press
WASHINGTON - Citing danger to the national economy, the Bush administration approved an emergency bailout of the U.S. auto industry Friday, offering $17.4 billion in rescue loans in exchange for deep concessions from the desperately troubled carmakers and their workers.
The government will have the option of becoming a stockholder in the companies, much as it has with major banks, in effect partially nationalizing the industry.
At the same time, Treasury Secretary Henry Paulson said Congress should release the second $350 billion from the financial rescue fund that it approved in October to bail out huge financial institutions. Tapping the fund for the auto industry basically exhausts the first half of the $700 billion total, he said.
President Bush said, "Allowing the auto companies to collapse is not a responsible course of action." Bankruptcy, he said, would deal "an unacceptably painful blow to hardworking Americans" across the economy.
Some $13.4 billion of the money will be available this month and next, $9.4 billion for General Motors Corp. and $4 billion for Chrysler LLC. Both companies have said they soon might be unable to pay their bills without federal help. Ford Motor Co. has said it does not need immediate help.
Bush's plan is designed to keep the auto industry running in the short term, passing the longer-range problem on to the incoming administration of President-elect Barack Obama. The last $4 billion of the loans announced Friday would depend on release of the second half of the big Troubled Asset Relief Program fund.
Bush said the rescue package demanded concessions similar to those outlined in a bailout plan that was approved by the House but rejected by the Senate a week ago. It would give the automakers three months to come up with restructuring plans to become viable companies.
If they fail to produce a plan by March 31, the automakers will be required to repay the loans, which they would find all but impossible.
"The time to make hard decisions to become viable is now, or the only option will be bankruptcy," Bush said. "The automakers and unions must understand what is at stake and make hard decisions necessary to reform."
He said the companies' workers should agree to wage and work rules that are competitive with foreign automakers by the end of next year.
And he called for elimination of a "jobs bank" program — negotiated by the United Auto Workers and the companies — under which laid-off workers can receive about 95 percent of their pay and benefits for years. Early this month, the UAW agreed to suspend the program.
Some congressional Republicans decried Friday's announcement.
House GOP leader John Boehner of Ohio called the deal "disappointing news" and said that by using federal TARP funds "Washington has failed both autoworkers and taxpayers."
Under terms of the loan, GM and Chrysler must provide the government with stock warrants giving it the option to buy GM and Chrysler stock at a specific price.
In addition, the automakers would be required to agree to limits on executive pay and eliminate some perks such as corporate jets.
Paulson said that with the help for the carmakers, the government will have allocated the first half of the largest government bailout program in history.
He said he was confident that the Treasury Department, Federal Reserve and Federal Deposit Insurance Corp. have the resources to address a significant market crisis if one should occur before Congress approves the use of the second half of the rescue fund.
Paulson said he would discuss the process with congressional leaders and Obama's transition team "in the near future."
Friday's rescue plan retains the idea of a "car czar" to make sure the auto companies are keeping their promises and moving toward long-term viability.
The short-term overseer will be Paulson. But the White House deputy chief of staff, Joel Kaplan, said that if the Obama team wants someone else installed to bridge the administrations, Bush is open to that.
The White House package is the lifeline desperately sought by U.S. automakers, who warned they were running out of money as the economy fell deeper into recession, car loans became scarce and consumers stopped shopping for cars.
The carmakers have announced extended holiday shutdowns. Chrysler is closing all 30 of its North American manufacturing plants for four weeks because of slumping sales; Ford will shut 10 North American assembly plants for an extra week in January, and General Motors will temporarily close 20 factories — many for the entire month of January — to cut vehicle production.
Bush said the automakers have faced serious challenges for many years: burdensome costs, a shrinking share of the market and plunging profits. "In recent months, the global financial crisis has made these challenges even more severe," he said.
The president said that on the one hand, the government has a responsibility not to undermine the private enterprise system, yet on the other hand, it must safeguard the broader health and stability of the U.S. economy.
"If we were to allow the free market to take its course now, it would almost certainly lead to disorderly bankruptcy and liquidation for the automakers," he said. "Under ordinary economic circumstances, I would say this is the price that failed companies must pay," the president said. "And I would not favor intervening to prevent the automakers from going out of business. But these are not ordinary circumstances.
"In the midst of a financial crisis and a recession, allowing the U.S. auto industry to collapse is not a responsible course of action."
Chrysler CEO Bob Nardelli thanked the administration for its help. In a statement Friday morning, Nardelli said the initial injection of capital will help the company get through its cash crisis and help eventually return to profitability. He said Chrysler was committed to meeting the conditions set by Bush in exchange for the money.
Ford President and CEO Alan Mulally said his company would not seek the short-term financial assistance but predicted the aid would stabilize the industry.
"The U.S. auto industry is highly interdependent, and a failure of one of our competitors would have a ripple effect that could jeopardize millions of jobs and further damage the already weakened U.S. economy," Mulally said.
General Motors said the short-term loans would help preserve jobs and "lead to a leaner, stronger General Motors."
"We know we have much work in front of us to accomplish our plan. It is our intention to continue to be transparent as we execute our plan, and we will provide regular updates on our progress," the automaker said.
---
Because the loans were ordered by the administration, rather than mandated in legislation, the money flows first and the repayment terms later are written on paper - literally. - Great terms???? When your giving away other peoples money its easy to give terms like this out! When Congress first passed the $700 billion corporate welfare bill I said it was a blank check written to themselfs and the special interest groups that give them money, and this certainly is a blank check Bush has signed.
Bush hands car keys (auto-industry mess) to Obama
by David Espo - Dec. 20, 2008 12:00 AM
Associated Press
WASHINGTON - President Bush's $17 billion lifeline to General Motors Corp. and Chrysler LLC means neither company will perish while he occupies the White House, yet leaves the ultimate fate of the once-proud auto industry up to the next administration.
A month from leaving office, Bush framed his rescue as "a step that we wish were not necessary," but one that saved the country from a disastrous blow.
It also was one that looked past public opposition, included a key concession of his own and spared a gridlocked Congress the consequences of its own futility.
For that, Bush drew considerable praise from Democrats, Chrysler and GM, the distinctly more tempered appreciation of the United Auto Workers and the scorn of fellow Republicans- all the while preserving complete freedom for his successor to start anew on Jan. 20.
Whatever the terms, targets or requirements of the loans that Bush's Treasury Department laid out, administration officials said President-elect Barack Obama was free to change them at his will.
Because the loans were ordered by the administration, rather than mandated in legislation, the money flows first and the repayment terms later are written on paper - literally.
Obama can ease or toughen provisions in future negotiations.
In a likely harbinger, the autoworkers union became first in line to seek changes.
Bush, no particular friend of organized labor, had wanted the UAW to agree to wage-and-benefit concessions that would make union workers equal in compensation to employees turning out Japanese cars at factories in the United States.
Treasury Secretary Henry Paulson agreed to a change that said the compensation could be competitive, not equal. Objecting was Sen. Carl Levin, D-Mich.
Not yet satisfied, the union's Alan Reuther said, "The UAW believes these provisions unfairly single out workers. They were not part of the agreement that the White House entered into with the Congress. "We believe they should be removed."
It's the type of detail likely to come up again and again as the new administration tries to assure the survival of the auto industry without antagonizing organized labor, a key Democratic constituency.
"I just want to make sure that when we see a final restructuring package that it's not just workers who are bearing the brunt," Obama said.
He didn't say so, but some Democrats have declared Rick Wagoner, General Motors CEO, must go, for example.
It's unlikely any Republicans will be surprised by such maneuvering. After 14 years of controlling at least one branch of government, they soon are to become spectators.
Bush's big concession came when he agreed to help the auto industry with funds from the Troubled Asset Recovery Program, the $700 billion bailout that Congress approved last fall to stabilize the financial industry. He long has said his administration lacked authority to dip into TARP to help automakers.
That insistence crumbled a week ago when Congress gridlocked.
A catch remains, at least as long as Bush's version of the loan remains in force.
Of the $17.4 billion in the loan package, $13.4 billion is available this month and next. The remainder will be used only if the administration is free to tap the $350 billion that is left in the financial-industry bailout fund.
That can only happen if Congress first votes on releasing the funds.
---
Source $8 billion in corporate welfare to GM!!!!!
Dec 30, 11:07 AM EST
GMAC receives $5B in bailout funds
By CHRISTOPHER S. RUGABER
AP Economics Writer
WASHINGTON (AP) -- The Treasury Department said that it will provide $5 billion to GMAC Financial Services LLC, the ailing financing arm of General Motors Corp., in a move that's expected to stave off a bankruptcy protection filing at the company but also severely limit GM's control over it.
In exchange for the slice of the $700 billion bank rescue package, the government will receive preferred shares that pay an 8 percent dividend and warrants to purchase additional shares in return for the money, the department said.
Treasury also said it will lend up to $1 billion to General Motors so that the company can purchase additional equity that GMAC is planning to offer as part of its effort to raise more capital.
The government aid is also expected to provide a needed boost to domestic auto sales by freeing up more credit for consumers. GMAC said Tuesday that it would immediately resume lending to certain customers it had previously said were too great a risk for auto loans as a result of the tight credit markets.
The assistance is part of a new, auto industry-focused program within the Treasury's bank rescue effort known as the Troubled Assets Relief Program, or TARP. The auto program includes the $17.4 billion in loans the Bush administration agreed to provide the industry Dec. 19, the department said.
A Treasury official said there is no dollar limit on the auto assistance effort.
Analysts had speculated that if GMAC didn't obtain financial help it would have to file for bankruptcy protection or shut down, which would be a serious blow to GM's own chances for survival.
Last week, the Federal Reserve approved GMAC's application to become a bank holding company, which made it eligible to receive money from the financial rescue fund. The Fed's approval was contingent on GMAC raising additional capital.
JPMorgan's Himanshu Patel said the moves show how Treasury is taking a comprehensive look at GM's entire business and make a bankruptcy protection filing and liquidation extremely unlikely.
But at the same time, the automaker is losing control of the financing business, which may or may not have positive results down the road.
"GM is now on a path to become the first global carmaker to have no influence/control over a captive auto finance company - this may prove a disadvantage to GM sales or, if not, it may prompt other (original equipment manufacturers) to follow," Patel wrote in a note to investors.
The analyst said that the moves could allow GMAC to pickup market share in the long term, or may even eventually spur a public offering.
Separately, GMAC said Monday that it has accepted all the bonds tendered in a debt-for-equity swap that was also part of its capital-raising efforts. The company released few details about the results of the swap, but said that the conditions of the offers had been satisfied.
GMAC "intends to act quickly to resume automotive lending to a broader spectrum of customers," the company said in a statement.
The company's goal is to reach $30 billion in capital, the majority of which would come from the debt-for-equity exchange. GMAC has struggled to get bondholders to convert 75 percent of their debt into equity of the company and has yet to say whether it has met its goal.
The Treasury Department's investment in the company does not mean it is "passing judgment" on whether GMAC has met the Fed's requirements to raise additional capital, the official said.
GMAC, meanwhile, said the government's $5 billion investment was completed Monday. The $1 billion loan is still in progress, the Treasury official said.
GMAC accepted additional restrictions on executive compensation than were imposed on banks that have received money from the program. The bonus pool for top executives will be 40 percent less than it was in 2007, the Treasury official said.
The Treasury Department said after initially bailing out the auto industry earlier this month that it had committed the first $350 billion of the bank bailout fund, and said Congress should release the second half.
But in several cases the Treasury hasn't actually spent all the committed funds, and the department will use money that hasn't yet been spent to fund the investment in GMAC, the official said. For example, the department allocated $250 billion for a program to inject capital into banks, but has so far spent only about $162 billion of that amount.
General Motors' partial ownership of GMAC has kept the finance arm lending to dealers and car buyers, even as credit from traditional banks has dried up. If GMAC went bankrupt, other institutions would be unlikely to step in to replace the credit lost by GM's dealers and customers.
GMAC said Tuesday that it will resume offering automotive financing to customers with credit scores as low as 621, eliminating restrictions put in place two months ago that mandated a minimum score of 700.
"We will continue to employ responsible credit standards, but will be able to relax the constraints we put in place a few months ago due to the credit crisis," GMAC President Bill Muir said in a statement. "We will immediately put our renewed access to capital to use to facilitate the purchase of cars and trucks in the U.S."
Muir said the change will allow the company to return to "more normal" financing volumes and help stabilize the domestic auto industry.
GM owns 49 percent of GMAC, while the rest is owned by private equity firm Cerberus Capital Management.
As part of its order last week approving GMAC's application for bank holding company status, the Federal Reserve said GM will reduce its stake to less than 10 percent of the voting and total equity interest of GMAC. Cerberus, which led an investment group that bought a 51 percent stake in GMAC from the automaker for $14 billion in 2006, will reduce its stake in GMAC to no more than 33 percent of total equity.
---
Don't think of it as a bailout - Its a slush fund for Congress and the special intrest groups they give money to! And Congressmen and Sentators certainly don't want the taxpayers to see who they are shoveling money to.
Officials: tracking bailout money is difficult
JEANNINE AVERSA, AP Economics Writer Jeannine
Aversa, Ap Economics Writer – 1 hr 32 mins ago
WASHINGTON – Government officials overseeing a $700 billion bailout have acknowledged difficulties tracking the money and assessing the program's effectiveness.
The information was contained in a document, released Wednesday, of a Dec. 10 meeting of the Financial Stability Oversight Board. The panel, headed by Federal Reserve Chairman Ben Bernanke, includes Treasury Secretary Henry Paulson and Securities and Exchange Commission chief Christopher Cox.
While offering no details, the document also mentioned that officials at that meeting discussed "potential methods" of using the bailout program to help curb home foreclosures and ease problems in the housing market.
More broadly, the officials discussed "the difficulty of isolating the effects" of the bailout program "given the variety of policy actions taken by the U.S. government to support financial stability and promote economic growth."
The officials also noted the "difficulties associated with monitoring the use of specific funds" provided to individual financial institutions, according to the document.
The bailout program, created Oct. 3, is designed to break through a debilitating credit clog and spur financial markets to operate more normally again. Credit and financial woes — along with a severe housing crisis — have plunged the economy into a painful recession.
In a separate report responding to questions from the top congressional watchdog overseeing the bailout, the Treasury Department defended its management of the program amid criticisms about confusing shifts in strategy.
Paulson's decision to focus the program on providing banks and other companies with capital injections — rather than the original strategy of buying rotten assets from banks_ was necessary to respond to quickly changing financial market conditions, according to the new Treasury report.
Harvard law professor Elizabeth Warren, the chairwoman of a congressional oversight panel, has said she didn't understand why it's taken so long for the Bush administration to explain its plan. The five-member panel — made up of three Democratic appointees, including Warren, and two Republicans — has criticized Treasury for not saying exactly what problems they're trying to fix or how the investments will fix them.
The department insists the program is helping to stabilize the financial system, but acknowledges it will take time for conditions to return to normal.
"We have made significant progress, but there is no single action the federal government can take to end the financial market turmoil and the economic downturn," the report said. "We are confident we are pursuing the right strategy."
Both Democrat and Republican lawmakers on Capitol Hill have complained that Paulson has sent confusing signals to taxpayers and Wall Street investors by shifting strategy and not communicating clearly about objectives.
The oversight panel is one of several entities monitoring the bailout, in addition to a special inspector general and the Government Accountability Office, a congressional auditor.
Earlier this month, the GAO said the government must toughen its monitoring of the bailout program to better keep track of how the money is used.
The government has pledged to provide $250 billion to banks in return for partial ownership. The goal is for banks to use the money to boost lending. However, a recent review by The Associated Press found that after receiving billions in aid from U.S. taxpayers, the nation's largest banks can't say exactly how they're spending the money. Some wouldn't even talk about it.
The idea behind the capital injection program is for banks to use the money to rebuild reserves and lend more freely to customers. However, banks do have leeway to use the money for other things, such as buying other banks, paying dividends to investors or bonuses to executives. That's touched a nerve with some lawmakers and other critics.
Money from the bailout pot also has been used for other things, including throwing a financial lifeline to ailing auto companies Chrysler and General Motors Corp., and teetering insurance giant American International Group. Money also was used to back a rescue for Citigroup Inc.
---
Obama blames Bush for future Obama deficits
Obama blames Bush for $1 trillion deficit! Then Obama seems to use that as an excuse on why the Obama admininstration will also have a string of $1 trillion deficits.

Of course Obama didn't meniton that OBAMA himself along with McCain voted for the last $700 billion handout to the poor Wall Street brokers and bankers which is almost responsible for the $1 trillion deficit. And of course Obama in this article talks about another $800 billion in handouts, which is $1.5 trillion in total corporate welfare.

And in the same breath he talks about "banning pork-barrel spending".

About the only thing we can really count on the government in Washington to continue doing is stealing our money and giving it to themselfs and special intrest groups.

Obama criticizes Bush for doubling U.S. debt

by Steven Thomma - Jan. 7, 2009 12:00 AM

McClatchy Newspapers

WASHINGTON - President-elect Barack Obama on Tuesday ripped outgoing President Bush for "irresponsibly" doubling the federal debt, then warned that he could preside over trillion-dollar-a-year deficits for "years to come."

Huddling with his budget team, Obama told reporters he would ban pork-barrel spending projects known as earmarks from his proposal to stimulate the economy. He also vowed to make the difficult choices necessary to curb runaway deficits and debt.

He said, however, that he wouldn't propose his first federal budget until after the stimulus proposal, which itself could cost about $800 billion. And he cautioned that staggering annual deficits would continue even after that.

"At the current course and speed, a trillion-dollar deficit will be here before we even start the next budget," Obama said at his Washington transition office.

"We're already looking at a trillion-dollar budget deficit or close to a trillion-dollar budget deficit, and ... potentially we've got trillion-dollar deficits for years to come, even with the economic recovery that we are working on at this point."

He also defended his choice of Leon Panetta to be director of the CIA - despite his having no direct experience in intelligence gathering - and said he'll have "plenty to say" about the Israel-Gaza fighting after he takes office in two weeks.

Obama stressed that Panetta's experience as a congressman and White House chief of staff will help him and others reverse Bush administration policies such as allowing torture.

"He is one of the finest public servants that we have. He brings extraordinary management skills, great political savvy, an impeccable record of integrity," Obama said.

His team also worked to repair some of the political damage caused by failing to notify Sen. Dianne Feinstein, D-Calif., the incoming chairwoman of the Senate Intelligence Committee, of the coming nomination.

"It's always good to talk to the requisite members of Congress," Vice President-elect Joe Biden told reporters on Capitol Hill. "I think it was just a mistake."

Feinstein said later she'd been contacted by both Obama and Biden.

On the budget, the specter of deficits and debt dominated Obama's meeting and comments to reporters as he prepared to give a major speech Thursday on the economy.

The federal debt nearly doubled under Bush's watch, from $5.7 trillion to $10.6 trillion. With trillion-dollar-a-year deficits added to that, the total debt burden could soar much higher. And it would come just as the government starts to face the growing burdens of medical care for retiring and aging baby boomers.

$1.2T deficit projected for '09

Jan. 7, 2009 09:25 AM

Associated Press

WASHINGTON — The federal budget deficit will hit an unparalleled $1.2 trillion for the 2009 budget year, according to grim new Congressional Budget Office figures.

The CBO estimate released Wednesday also sees the economy shrinking by 2.2 percent this year and recovering only slightly in 2010, and the unemployment rate eclipsing 9 percent early next year unless the Obama administration steps in.

"The recession — which began about a year ago — will last well into 2009," the CBO report says. The dismal figures come a day after President-elect Barack Obama warned of "trillion-dollar deficits for years to come."

CBO's figures don't account for the huge economic stimulus bill Obama is expected to propose soon to try to jolt the economy. At the same time, they do not reflect the immediate cost of the Wall St. bailout.

The shrinking economy has led to a sharp drop in estimated tax revenues of $166 billion, which is largely responsible for the deficit, along with big outlays from the Wall St. bailout.

The agency expects the $700 billion bailout to actually cost taxpayers $189 billion, with the costs reflected in its estimates for this year and next. CBO estimates take into account the net value of the assets the government holds from financial institutions.

Under Treasury Department accounting, the bailout is reflected on a cash basis with disbursements reflected as the government makes them; as of mid-December, those disbursements totaled $238 billion. Exposure to the taxpayer stemming from the Federal Reserve Board's extensive interventions in the financial markets — such as acquiring 80 percent control of insurance and financial giant American International Group Inc. — are not reflected in the estimates.

Obama and Congress are promising quick enactment of the economic recovery plan, which will blend up to $300 billion in tax cuts with big new spending programs and could cost up to $775 billion over the next few years.

The flood of red ink probably won't affect that measure but could crimp other items on Obama's agenda.

"Despite the record deficits facing us, our number one task is an economic recovery package," said House Budget Committee Chairman John Spratt Jr., D-S.C. "With Americans concerned about their jobs, their homes, their retirement and their children's future, our economic situation is so severe that stabilizing the economy must take precedence over short-term deficits."

The $1.19 trillion 2009 figure shatters the previous record of $455 billion, set only last year. It also represents more than 8 percent of the size of the economy, which is higher than the deficits of the 1980s. The 2009 budget year began last Oct. 1.

Senate GOP Leader Mitch McConnell of Kentucky called the budget figures "a stunning and sobering reminder that Congress must strengthen its efforts to be good stewards of the taxpayers' money."

CBO predicts the deficit will come under relative control within a few years, dropping to the $250 billion range within five years. But such predictions depend on the expiration of President Bush's tax cuts at the end of next year; Obama has promised to renew most of them except for those aimed at people making more than $250,000 a year.

Fully renewing the Bush tax cuts, as well as indexing the alternative minimum tax for inflation, would add $380 billion to a deficit otherwise projected at $327 billion for 2012, CBO says.

At the same time, Democrats are expected to increase domestic agency budgets as they complete the leftover 2009 spending bills, and Obama is likely to recommend further increases in next month's budget submission.

While expected, the deficit numbers will give lawmakers second thoughts about creating new spending programs without finding ways to pay for them. And it is likely to prompt a debate about whether tax increases are necessary after the economy recovers from the current recession.

On Wednesday, Obama said, "Unless we take decisive action, even after our economy pulls out of its slide, trillion dollar deficits will be a reality for years to come."

"I'm going to be willing to make some very difficult choices in how we get a handle on this deficit," Obama said Tuesday.

Economists warn that large and sustained budget deficits put upward pressure on interest rates. In the short term, however, efforts to restrain the deficit could have a contracting effect on the economy.

"As we address our economy, it is vital that we simultaneously take steps to put our budget back on a sound long-term fiscal path," said Senate Budget Committee Chairman Kent Conrad, D-N.D.

Stimulus aside, Obama vows budget restraint

Jan. 7, 2009 06:43 AM

Associated Press

WASHINGTON - To a public wary of government spending, President-elect Barack Obama is offering a salve with his massive economic stimulus package: the promise of long-term fiscal discipline.

Budget-conscious lawmakers are pressing Obama to embrace deficit-reduction goals even as he promotes a spending and tax-cutting plan - expected to cost about $775 billion - to jolt the economy out of its downward spiral.

"Part of the discussion that needs to happen right now is not what we do just right now, but what we look to in the future - about how we get back to a balanced budget and then start to deal with this horrible, horrible national debt that we have," said Rep. Dennis Moore of Kansas, a member of the congressional Blue Dogs, a coalition of conservative and moderate Democrats.

Two weeks away from assuming the presidency, Obama vowed Tuesday to "bring a long-overdue sense of responsibility and accountability to Washington" and called the need for budget reform "an absolute necessity."

On Wednesday, he was expected to announce Nancy Killefer as his chief performance officer, a White House official who will work with federal agencies to set performance standards and hold agency managers accountable for progress. Killefer is director of a management consulting firm and served as an assistant secretary of the Treasury under President Bill Clinton.

"The fact that he is making these comments publicly about fiscal responsibility gives me encouragement that we will see something," said Rep. Charlie Melancon of Louisiana, one of the leaders of the Blue Dog Coalition.

With Democrats in control of both chambers in Congress, Obama's reassurances to budget hawks from both parties already appear to be making a stimulus package more palatable. Obama said this week he would like Congress to complete action on an economic recovery plan by the end of the month or the first week of February.

House Speaker Nancy Pelosi, D-Calif., was expected to press fellow Democrats on Wednesday to pass the legislation by mid-February. She, too, has reassurances for cost-conscious lawmakers.

"Many will focus on the upfront cost of this legislation," she was to tell a House Democratic Policy and Steering Committee forum, according to an excerpt of her prepared remarks. "While we are not discussing small sums, focusing on the price tag alone ignores the cost of inaction and the real payoff in terms of job creation and increased revenues to our Treasury."

While promising to fight waste and to make tough budgetary decisions, however, Obama warned that the nation could face trillion-dollar deficits for years to come. Eight years ago, the federal budget ran a surplus; the deficit on Sept. 30 was about $455 billion. That was before the government began spending nearly half of a $700 billion bailout fund for the financial sector.

Obama said Americans will accept his proposed stimulus plan only if they believe the money is being used wisely to boost the troubled economy and to make smart long-term investments in public projects.

Lawmakers and budget watchdog groups want Obama to promptly spell out a process for addressing long-term deficits.

"Short-term stimulus does need to be combined with long-term discipline," said Robert Bixby, the executive director of the Concord Coalition, a nonpartisan group that advocates fiscal restraint. "The deficit numbers are going to be astronomical for the next couple of years. People need to know that there is some end game to this."

Senate Budget Committee Chairman Kent Conrad, D-N.D., agreed that trillion-dollar deficits are likely for a few years and must be tolerated as the government pumps money into the badly weakened economy. But the nation must confront long-term problems facing Social Security and Medicare, he said, which will be "very, very tough."

"It would send a very healthy message to the markets and the American people if President-elect Obama were to simultaneously announce an economic recovery package and the beginning of a bipartisan process to deal with our long-term imbalances," Conrad said.

Obama has not detailed solutions for vexing problems such as growing demands on Social Security and Medicare. His prescriptions to make government accountable could easily run aground, much like those of predecessors who vowed to tackle government waste, fraud and abuse.

But lawmakers are not short on ideas. Conrad and the Budget Committee's top Republican, New Hampshire Sen. Judd Gregg, have proposed a bipartisan fiscal task force of lawmakers and administration officials that would create a plan to reduce budget deficits and lower the national debt.

Blue Dog Democrats would like to see legislation that would force Congress to pay for spending proposals with equal spending cuts or with new revenue. House Democrats this week plan to consider legislation that would require all federal agencies to undergo new audits and would call for congressional hearings when agency inspectors general find evidence of waste or fraud.

---

On the Net: Obama transition: http://www.change.gov
---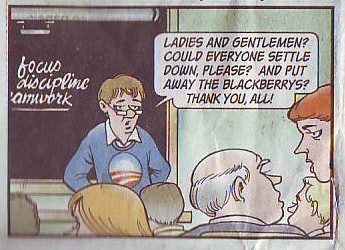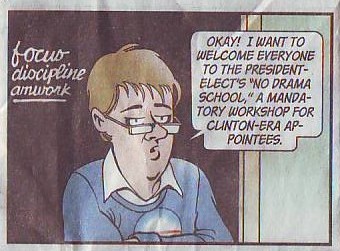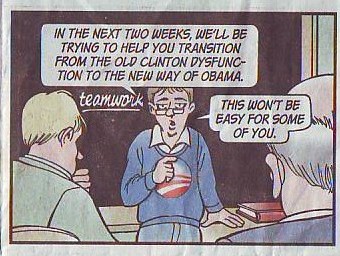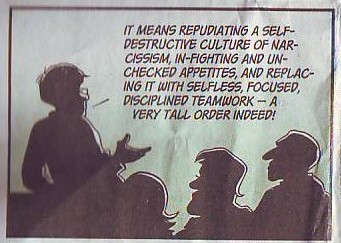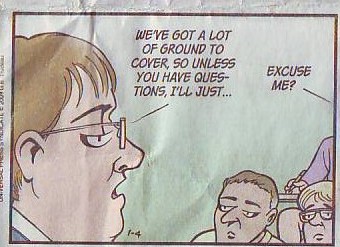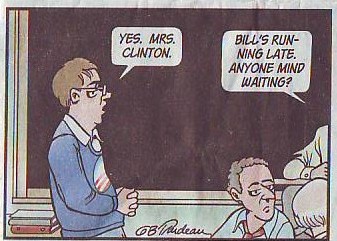 Ladies and gentlemen? Could everyone settle down, please? And put away the Blackberrys? Thank you, all!
Okay! I want to welcome everyone to the president-elects "no drama school," a mandatory workshop for Clinton-era appointees.
In the next two weeks, we'll be trying to help you transition from the old Clinton dysfunction to the new way of Obama.
This won't be easy for some of you.
It means repudiating a self-destructive culture of narcissism, infighting and unchecked appetites, and replacing it with selfless, focused, disciplined teamwork – A very tall order indeed!
We've got a lot of ground to cover, so unless you have questions, I'll just …
Excuse me?
Yes. Mrs. Clinton.
Bill's running late. Anyone mind waiting?
---
Well nothing changes execpt the police state! The Police state always gets bigger and badder! If Hitler were alive he would look at this in awe and say "How can I make Nazi Germany like that?"
Security braces for inaugural throngs
By Kevin Johnson, USA TODAY
WASHINGTON — Record crowds expected for President-elect Barack Obama's inauguration are prompting unique law enforcement strategies, including an unprecedented deployment of technology and a small army of officers and military personnel, senior security officials say.
"Every element of the plan had to be tweaked to consider crowd control," Washington Police Chief Cathy Lanier says.
The FBI — worried that crowds will slow responses to potential emergencies — for the first time is outfitting at least 100 teams of specialists in hazardous materials, weapons of mass destruction and hostage rescue with global positioning devices, said Christopher Combs, an FBI supervisory agent involved in the inaugural security operation.
Supervisors at a local command center will track the teams on large screens so they can be quickly dispatched to possible crises.
A separate cellular telephone network is being tested for use by emergency officials in case existing systems are overloaded, as occurred in the hours after the Sept. 11, 2001, terror attacks.
"One of the reasons the assets required (for this inauguration) have doubled, even tripled is not because of the (terror) threat, but because of the number of people coming," Combs said. "A problem can be magnified 10 times because of the size of the crowd."
John Perren, counterterrorism chief at the FBI's Washington field office, said there are no credible threats against inaugural activities. Yet because of the "anticipated crowd size," he said, it is important for "all of us to be looking at the same sheet of music." District of Columbia Mayor Adrian Fenty and other officials predict crowds will top the record 1.2 million at Lyndon Johnson's inauguration.
Northwestern University professor Hani Mahmassani said he has been advising the district's Metropolitan Police and officials about crowd control strategies. Mahmassani, a civil and environmental engineering professor, has studied crowd behavior and the deadly stampedes that have marred annual Muslim pilgrimages to Mecca.
He said district officials are including various mass communications systems to assist with crowd control, from loud speakers and strategically placed large-screen TVs to cellphone alerts.
"Anything could be a spark," Mahmassani said. "A person falling or tripping," or false information circulated in a crowd. "You try to keep the psychology positive so that no false rumors spread."
A network of surveillance cameras, most of which was installed after the 2001 attacks, will monitor crowd size and movement, he said.
The overall security operation is being overseen by the U.S. Secret Service. In the event of a crisis, the FBI would lead the subsequent investigation.
Combs said federal investigators also have digitally mapped the entire Inaugural Parade route, from the U.S. Capitol steps to Pennsylvania Avenue and the White House.
Officials can refer to parade route images, down to the locations of trash cans and light poles, in part to more quickly deploy response units, he said.
The site survey technology also has included an electronic review of buildings along the parade route and possible locations that could provide vantage points for possible snipers.
The technology has been used before, but Combs said investigators are now able to share the survey information more broadly and quickly than for previous inaugurations. "The build-up of the public security infrastructure (including security cameras) has made it so much easier," he said. "Connections can be made with a couple clicks of the mouse."
---
Bush's legacy
From the political notebook:
* Last week was Bush legacy week. In his farewell address to the nation, President Bush made it clear what he thought his legacy should be: He kept us safe.
Bush has been given remarkably little credit or appreciation for the fact that there has not been a domestic terrorist attack since 9/11, contrary to universal expectations at the time.
For the most part, and for most people, the Bush presidency is seen as a failure.
If, however, there were to be a terrorist attack during Barack Obama's watch, the public's view of Bush would spin on a dime. [As long as we arm, fund, and support the Israeli terrorist who murder Arabs and steal their land we will be subject to terrorist attacks by Muslims. Same goes for invading places like Iraq and Afghanistan, as long as we have troops in those places we will be subject to terrorist attacks by the Arabs.]
This might not be right or fair. But it's reality.
* Bush reiterated the heart of his doctrine regarding the war on terror, the need for the United States to be an active agent of democratic change in other countries: "We must continue to engage the world with confidence and clear purpose…. In the 21st century, security and prosperity at home depend on the expansion of liberty abroad."
I was struck by the stark difference with the advice of the first farewell address by George Washington, who cautioned against such interventions in the affairs and disputes of other countries. According to Washington, "the great rule of conduct for us in regard to foreign nations is in extending our commercial relations, to have with them as little political connection as possible."
I think Washington had the wiser counsel.
* The failure of Treasury Secretary designate Tim Geithner to pay his Social Security taxes wasn't an innocent mistake. It shouldn't be overlooked or excused.
Geithner is a savvy and knowledgeable guy. If he was receiving wage income from the International Monetary Fund from which payroll taxes weren't being withheld, the question of whether it was subject to the Social Security self-employment tax is obvious. At best, Geithner is guilty of gross irresponsibility.
The argument that this should be overlooked because Geithner is indispensible to economic recovery is nonsense. There are few truly indispensible people, and Geithner is not one of them. In fact, he's been neck-deep in the Paulson-Bernanke bailouts that have been such a bust.
It's unfathomable that the Democrats would make someone Treasury Secretary who hadn't paid his taxes.
* God may move in mysterious ways, but I'm not sure He has anything on Congress. There is a nearly universal belief in Congress that the first $350 billion in funds for the Troubled Asset Relief Program have been badly used. So, what's the solution? Why, spend $350 billion more.
This despite the fact that the plans of the Obama administration to use the money, to the extent they exist, would further divert it from cleaning up the financial system that was the original intent of the program.
The vote in the Senate effectively authorizing the second $350 billion was interesting. Nine Democrats voted to block the second installment, including some of the most liberal members. Six Republicans voted to keep the party going.
Arizona's Republican delegation split its vote. John McCain voted to block the second $350 billion. Jon Kyl voted to permit it.
---
Of course Obama will have the same war, but it will be a silly little war in Afghanistan instead of Iraq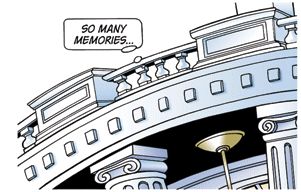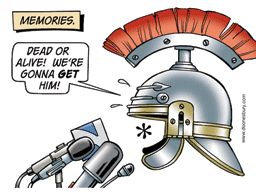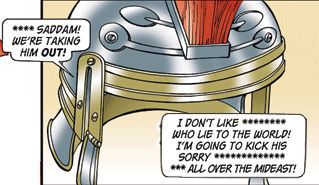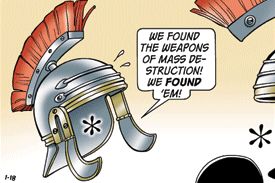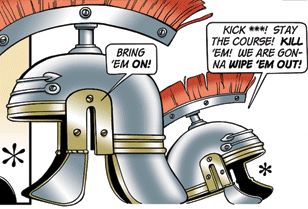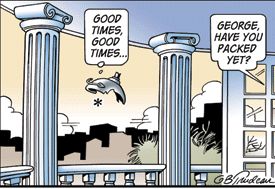 ---
The new Emperor is a smart man. So the serfs and subjects think they are in charge the new Emperor throws a grand party for them, before he gets to work on the task of stealing their money and mirco-managing their lives!
Of course on day three it bill be back to the same old stuff and the only realy important questions the Emperor will have is "Who are we going to steal the money from, and more importantly, who are we going to give the stolen loot to."
Inaugural opening concert packs star-powered punch
HBO plans live coverage of event, free of charge to viewers
by Larry Rodgers - Jan. 18, 2009 12:00 AM
The Arizona Republic
The lineup of musicians who will perform today at the official opening celebration for the inauguration of Barack Obama is jaw-dropping.
Those scheduled to perform include Bruce Springsteen, U2, Beyoncé, Garth Brooks, Sheryl Crow, John Legend, Stevie Wonder, Mary J. Blige, Usher and Josh Groban.
Other acts expected to perform at the Lincoln Memorial in Washington, D.C., include James Taylor, John Mellencamp, Herbie Hancock, Jennifer Nettles, will.i.am, Pete Seeger, Renee Fleming, Heather Headley and Bettye LaVette. The event will be televised live by HBO on an open signal that will be available free of charge to any viewer with cable, satellite or other outlets capable of receiving HBO's signal. It will start at 12:30 p.m. Arizona time.
HBO will make the concert available to Spanish-speaking audiences on its HBO Latino channel from 12:30 to 2:30 p.m. The event will rebroadcast at 5 and 9:30 p.m. on HBO Latino.
Readings of historical passages by Tom Hanks, Jack Black, Denzel Washington, Jamie Foxx, Queen Latifah, Rosario Dawson and Martin Luther King Jr. III will also be highlights of the event.
"HBO is bringing this event to as many people as possible in the spirit of inclusiveness that defines every facet of this inauguration," said Bill Nelson, chairman and CEO of HBO.
---
Clinton takes charge at State Department
Jan. 22, 2009 08:55 AM
Associated Press
WASHINGTON - Hillary Rodham Clinton assumed her role as secretary of State on Thursday with a pledge to State Department employees that they would be at the leading edge of improving U.S. foreign relations.
"This is a new era," she declared at a welcoming ceremony where hundreds of department employees applauded and cheered as she arrived for her first day of work.
"There are three legs to the stool of American foreign policy: defense, diplomacy and development, and we are responsible for two of the three legs," said the former New York senator and one-time first lady. "And we will make clear as we go forward that diplomacy and development are essential tools in achieving the long-term objectives of the United States."
Clinton's mandate from President Barack Obama is to step up diplomatic efforts and restore the nation's tattered image abroad.
Her appointment, confirmed by the Senate and sealed in a private ceremony in her Senate office on Wednesday, came as Obama moved quickly in his first day in office to shore up a team of seasoned advisers and take the nation's foreign policy in a new direction.
Obama prepared to name former Senate Democratic leader George J. Mitchell as Clinton's special envoy to the Middle East, and he placed telephone calls to leaders overseas.
The new administration also drafted executive orders to close the U.S. naval prison at Guantanamo Bay, Cuba, review military trials of terror suspects and end harsh interrogations.
Obama was to join Clinton at the State Department on Thursday, where the two were to address department employees. Obama, Clinton, Vice President Joe Biden and national security adviser James Jones were to convene a closed-door meeting beforehand.
After being confirmed 94-2 by the Senate on Wednesday, Clinton delivered letters of resignation to Vice President Joe Biden, as president of the Senate, and New York Gov. David Paterson, who will chose her replacement.
Senate Majority Leader Harry Reid, D-Nev., said her swift confirmation was an imperative.
"We face two wars abroad, a complex and unpredictable crisis in the Middle East, the nuclear ambitions of a volatile Iranian regime, together with the complexities of dealing with North Korea," he said.
While Republicans agreed that Obama should be allowed to quickly pull together his Cabinet, some remained skeptical about his plans to revamp the nation's policies on such wartime issues as detainees.
Sen. Lindsey Graham, R-S.C., who challenged the Bush administration's detainee policy in 2006 and helped write legislation governing the new court system, said he agrees that Guantanamo Bay should be closed and a new secure location found.
But "the prison is not the problem," Graham said in a recent interview. "For all the challenges facing the nation, finding a place to put (military prisoners) is not the issue. ... Before we move them, we need to know what's going to happen to them."
Sen. Jim DeMint, R-S.C., said he was concerned that Obama and Clinton would reverse the U.S. policy that prohibits U.S. aid to overseas groups that offer abortions.
"I do not plan to slow up this nomination, but I do find it difficult to support a nominee who I know will pursue policies so contrary to American sovereignty and the dignity of the human person," DeMint said, shortly before voting with Sen. David Vitter, R-La., against Clinton's appointment.
---
The banks may be in poor health, but their corporate officers and maybe stockholders made out pretty good with the $300 billion the feds gave them!

Billions of dollars later, banks still in poor health

by Russ Wiles - Jan. 24, 2009 12:00 AM

The Arizona Republic

More than a year after the subprime-mortgage collapse put the squeeze on credit and pushed profits off a cliff, many banks remain in crisis.

Billions of dollars of federal aid haven't restored the industry to health, and bankers are bracing for a new set of problems now that the economy is sliding further.

President Barack Obama and the new Congress have had little choice but to elevate banking, credit and other economic issues to the top of their agenda. They're set to release another $350 billion or so in Troubled Assets Relief Program funds, yet doubts persist about the program's effectiveness and how the money should be used.

"The second installment of TARP may not be enough to stop the hemorrhaging," wrote Ed Yardeni, a New York-based economist and investment strategist. "The banking system's wounds are not healing."

Even as public frustrations mount that the government is funneling cash to the very institutions that helped escalate the recession, experts agree that the economy won't improve until banks get their acts together and credit conditions thaw.

Financial improvements appeared to have a toehold in the waning weeks of 2008, but a spate of recent bad news has changed the outlook.

"I thought we were out of the woods with this," said Herbert Kaufman, a finance professor at Arizona State University.

The uncertainty is weighing on consumers, businesses and investors, with some banks in bigger trouble than many outsiders thought.

Citigroup and Bank of America are facing new pressures and recently reported numbing losses. The Royal Bank of Scotland is poised to report the largest loss ever for a British firm, prompting new rescue efforts in that country and raising awareness of the global scope of the problem.

The first round of TARP government assistance seemed to stabilize the financial system. Key interbank-lending rates have eased in recent weeks, bank failures no longer are making headlines and depositors are breathing easier.

The problem now is the broad economy: A recession means more bad loans.

"We're seeing increased layoffs, lower retail sales and consumer spending continuing to decline, and all that relates back to non-payments on loans and delinquencies," said John Mathis, a professor of international banking at the Thunderbird School of Global Management in Glendale.

Delinquencies on some auto loans jumped to their highest levels ever during the third quarter, according to a January report by the American Bankers Association. So did delinquencies on home-equity lines of credit.

"The Number 1 factor in rising consumer-credit delinquencies is job losses," James Chessen, the bankers association's chief economist, said in a statement. "Delinquencies of all types of consumer loans will likely increase in the coming quarters."

Invest in banks?

What should policymakers do to shore up banks and help the economy? The options most frequently cited center on three choices for the government: invest further in banks, purchase their bad loans or offer relief to struggling borrowers in various ways.

Most of the first $350 billion in TARP money has been used to invest in healthy banks in hopes of shoring up their capital.

Bank lending is tied to the amount of capital they have, so more capital encourages more lending. Historically, each dollar of capital has supported about $7 in loans, said Wayne Abernathy, executive vice president for financial-markets policy at the bankers association.

Banks use capital as a cushion, typically holding it in ultrasecure investments such as U.S. Treasury bonds, he said.

Mathis favors using additional TARP funds for further investments in banks.

"You don't want any further drain on bank capital," he said.

So far, the government has invested roughly $200 billion of TARP funds in about 300 big banks, the bankers association said. Only a small slice of the more than 7,000 U.S. banks have received funds.

"We'd like to see (additional funds) spread out among the entire industry," Abernathy said. Doing so would keep smaller banks competitive and spur lending throughout the economy, he added.

"We usually get more job creation coming out of recessions from small businesses, and they typically get their funding from small banks," Abernathy said.

But will the second TARP installment of $350 billion or so be enough?

Researchers at FBR Capital Markets, sponsor of the FBR Open golf tournament in Scottsdale, raise doubts. They estimate that banks will need an additional $1 trillion to $1.2 trillion to end the crunch and get credit flowing in earnest.

Buy bad loans?

ASU's Kaufman favors a proposal under which the government would use bailout money to buy up bad loans held by banks. That, too, would help banks improve their finances by removing the most problematic liabilities.

Buying toxic assets was the original plan for government money until the Treasury shifted gears toward investments.

"The first step has to be removing these toxic assets," Kaufman said.

He sees the government buying up bad loans similar to the way the Resolution Trust Corp. bought distressed homes from savings and loans nearly two decades ago.

Just as the RTC wound up costing taxpayers less than one-half the original estimates, the public could be on the hook for less than the full $700 billion this time, Kaufman said.

Yet toxic-asset purchases can be tricky when it's hard to figure out a reasonable, fair price. If the government pays too much, taxpayers lose. If it offers too little, banks won't sell.

"Pricing was the issue that bedeviled the Treasury's ability to do (bad-loan purchases) last fall," Abernathy said.

Mortgage help?

A third use of TARP funds would be for mortgage mitigation.

Details haven't been finalized. But the plan could involve government mortgage guarantees if lenders cut interest rates, payments and the like for certain debtors. The effort might help 1 million homeowners, according to estimates.

It's difficult to predict which of these tactics, or others, might pull banks out of the morass and get the economy rolling.

Policymakers have no choice but to keep experimenting, considering the close ties between the banking industry and the economy.

Thunderbird's Mathis said, "The financial system's health is just so crucial to any recovery."
---
I'm not a crook - Blagojevich
Blagojevich hits talk-show circuit to tell his story
Jan. 26, 2009 01:30 PM
Chicago Tribune
CHICAGO - Illinois Gov. Rod Blagojevich refused to say Monday in a television interview whether he had described the vacated U.S. Senate seat of Barack Obama as a "golden" profit opportunity for him, as detailed in a covert federal recording accompanying his arrest.
Blagojevich said he expected "dramatic changes" in his life and his family's as the Illinois Senate prepared to open its impeachment trial with the prospect of removing him from office in days.
On ABC's The View, an insistent Barbara Walters recounted a transcript of a covert recording of Blagojevich obtained by federal agents who allege he sought to sell Obama's Senate seat for personal or political profit. ""I've got this thing and it's (expletive) golden," Blagojevich is quoted in the transcript, "and I'm just not giving it up for (expletive) nothing. I'm not gonna do it."
Walters, appearing from Los Angeles, spoke to Blagojevich in the show's New York studio. She appeared frustrated in repeatedly asking Blagojevich about the comment but the governor dodged and weaved until he said, "I can't confirm or deny anything when I haven't had the chance to hear all the tapes."
"Whatever the tapes are, they will speak for themselves," he said. "I was working to try to make the right decision for the people of Illinois."
Blagojevich also denied he compared himself to Nelson Mandela, Martin Luther King and Gandhi in an interview with NBC, saying his comments were taken out of context. Blagojevich said he often thinks of those figures for inspiration.
Blagojevich defended his wife's use of vulgarities as revealed on the partial transcripts of the covert recordings made public with the criminal charges against him on Dec. 9. He said he took responsibility because "she's been around me so long, she's picked up some of that."
"Had I known somebody else was listening, I wouldn't have used language like that."
Blagojevich acknowledged he had given thoughts to appointing talk show queen Oprah Winfrey to the Senate vacancy. That prompted View panelist Joy Behar to note that if he had picked Oprah, "All you get out of that is a car," an allusion to the kind of gift Winfrey has been known to give to people in need.
Ultimately, Walters questioned whether the media tour, which now also includes an appearance Tuesday on CBS' Early Show, would hurt him more than help him. Reciting his low poll numbers and a stagnant state government, she asked, whether it wouldn't be better for him to resign "for the sake of your own state, for your own dignity."
"That's the worst thing I could do," he said. "I'm an innocent man."
During the show, Blagojevich sat on a couch between Whoopi Goldberg and Behar, laughing with them at times while also trying to hit the talking points he has polished in recent days portraying himself as a victim of a political vendetta.
At the end of his appearance, Behar said she heard Blagojevich did a good impression of Richard Nixon. "Just say, 'I am not a crook.' Say that." Blagojevich declined the offer.
Blagojevich was supposed to have been accompanied on the popular talk show by his wife, Patricia. But Walters said the program was notified that she was canceling on the advice of her family.
The governor started his day on Good Morning America, where he first talked about considering Winfrey as his Senate appointment.
---
Hmmm.... Obama along with John McCain and Arizona Congressman Harry Mitchell all voted for the same $700 bailout bill that had NO limits on how the money could be spent! Now Obama is bitching that they spent the money HE gave them foolishly!
Obama scolds executives over $18.4 bil in Wall Street bonuses
by Christi Parsons and Jim Puzzanghera - Jan. 30, 2009 12:00 AM
Chicago Tribune
WASHINGTON - President Barack Obama blasted Wall Street on Thursday, calling it the "height of irresponsibility" that executives got huge bonuses last year even as the government was forking over billions to bail out ailing financial firms.
The stern lecture was inspired by a new report finding that the executives approved $18.4 billion in bonuses in 2008 - a big drop from the previous year but outrageous to the president just the same.
Seated in the Oval Office after a meeting with Treasury Secretary Timothy Geithner, Obama said this is not the right time for executives to be raking in enormous bonuses. "It is shameful," Obama said, "and part of what we're going to need is for folks on Wall Street who are asking for help to show some restraint and show some discipline and show some sense of responsibility.
"There will be time for them to make profits and there will be time for them to make bonuses," the president said. "Now is not that time."
In issuing harsh words, Obama reached for the most effective tool at his disposal now: public pressure.
The bailout passed last fall limits executive compensation - e.g., prohibiting incentives for taking excessive risks - but not bonuses simply because they are too generous.
Obama has had success with the tough talk lately. Earlier in the week, after the president questioned Citigroup's decision to buy a new corporate jet even as it takes bailout money, the troubled bank canceled the order.
Aides say Obama called for responsibility when he met with corporate executives this week.
A report by New York comptroller Thomas DiNapoli found that financial firms decreased their 2008 cash bonuses by 44 percent from the prior year, a figure determined mainly through an analysis of personal income-tax collections.
Though the decline was significant, the payouts were the sixth largest on record, according to the report. It said the average bonus last year was $112,000.
That sent Obama through the roof, press secretary Robert Gibbs suggested Thursday. The president's one-word reaction to the report, he said, was "outrageous."
Obama soon may have to make the decision to send more money to the financial system, and news about excessive payouts only makes his political sales job even harder.
The president said exactly that in a brief meeting with reporters.
"The American people understand that we've got a big hole that we've got to dig ourselves out of," he said. "But they don't like the idea that people are digging a bigger hole even as they're being asked to fill it up.
"We're going to be having conversations" to underscore that Wall Street executives have "to start acting in a more responsible fashion" to get this economy "rolling again."
---
Anti-war lawmakers worry over plan for Afghanistan
Posted 2/8/2009 3:14 PM ET
By Anne Flaherty, Associated Press Writer
WASHINGTON — After campaigning on the promise to end one war, President Barack Obama is preparing to escalate another. Obama's dual stance on the two wars is not lost on congressional Democrats, many of whom also ran on anti-war platforms. In coming weeks, they expect to have to consider tens of billions of dollars needed for combat, including a major buildup of troops in Afghanistan.
While increasing the military's focus in Afghanistan was anticipated -- it was a cornerstone of Obama's campaign -- many Democrats acknowledged in recent interviews that they are skittish about sending more troops, even in small numbers.
The concern, they say, is that the military could become further entrenched in an unwinnable war on their watch.
"Before I support any more troops to Afghanistan, I want to see a strategy that includes an exit plan," said Rep. Jim McGovern, a Massachusetts liberal who at one point wanted to cut off money for the Iraq war.
Added Wisconsin Democrat Sen. Russ Feingold, another fierce war opponent: "The idea of putting the troops in without having more clarity at least gives me pause."
The Obama administration is in the midst of a sweeping strategy review. The results of that assessment might not be released for several weeks. In the meantime, the administration is expected to approve an immediate request from the top military commander in Afghanistan for three more brigades, roughly 14,000 troops.
It is expected that more troops would follow, eventually doubling the presence from 33,000 to 60,000.
The proposed buildup had been under consideration by the Bush administration as a means of dealing with an uptick in violent attacks. More than 130 U.S. personnel died in Afghanistan last year, compared to 82 in 2007, according to a recent Pentagon report.
Vice President Joe Biden sought to lower lawmakers' expectations in the war when he met recently with House Democrats at their party retreat in Williamsburg, Va.
"The economic and security and social conditions there are daunting" and the nation has "geography, demography and history working against us," he said.
Defense Secretary Robert Gates said as much in congressional testimony last month, warning against aspiring to turn Afghanistan into a "Central Asian Valhalla," referring to a haven of purity in Norse mythology.
"Nobody in the world has that kind of time, patience or money, to be honest," he told lawmakers.
Indeed, Afghanistan poses a foreign policy challenge unlike no other. The country is one of the poorest in the world. Opium production has given way to Colombia-like drug cartels trafficking heroin. Corruption is rampant. Terrorist fighters move freely across the Pakistan border. European voters want their armies to leave.
And in the latest twist, the U.S. is now scrambling to find an alternative to flying troops and supplies into the landlocked country because of threats by nearby Kyrgyzstan that it plans to shut down the U.S. base there.
"The complexities just mount -- and you have to bring yourself back to what I hope we're going to ask, which is 'what is the goal?'" said Rep. John Tierney, in an interview after returning from his third trip to Afghanistan.
"You've got to look at these kids' parents in the face when you go to a funeral and say, 'This is why your kid was killed in action,'" said Tierney, D-Mass., who chairs an investigative subcommittee on national security issues.
David Kilcullen, a counterinsurgency adviser to Condoleezza Rice when she was secretary of state, recently warned senators against widening U.S. involvement in the war.
"If you think about what we did in Vietnam, we escalated, we overthrew that leader, we took control of the problem, we tried to fix it and we couldn't fix it, couldn't afford it," said Kilcullen, a former Australian Army officer, told the Senate Foreign Relations Committee.
"And I just think we need to be extremely careful about signing ourselves up to escalating to the point where we can't pullback. ... Because once you own the problem, you own it," he said.
Obama's biggest supporters in Congress say they believe the new president won't go too far. But they're also counting on the popular president to win over a war-weary public.
"I have to believe he will come well prepared and present a case to us that will justify what he is attempting to do," said Rep. Elijah Cummings, D-Md.
---
NATO commander: Afghanistan drug raids imminent
Posted 2/8/2009 1:31 PM ET
By Lolita C. Baldor, Associated Press Writer
MUNICH — In an effort to strike at a key income source for Taliban militants, the top NATO commander said Sunday that operations to attack drug lords and labs in Afghanistan will begin within the "next several days." Gen. John Craddock, who also heads the U.S. European Command, also said that the U.S. and its allies are making progress in their efforts to fill the need for more troops, equipment and intelligence gathering in Afghanistan. He, however, would not disclose any specific commitments he got this weekend as world leaders met at a security conference here.
NATO defense ministers, during a meeting last fall in Hungary, authorized troops in Afghanistan to launch the drug attacks, but there had been questions about whether allies would be willing to follow through. Money from Afghanistan's booming illicit drug trade has been blamed for pumping up to $100 million a year into the coffers of resurgent Taliban fighters.
"Activities and actions will occur soon that will be helpful," Craddock told reporters. "We've got to get started."
The U.S. delegation to the security conference, led by Vice President Joe Biden, was expected to talk to allies this weekend about the ongoing need for support in Afghanistan. Craddock said he still needs about 5,000 NATO troops to bolster Afghan forces during the coming elections, and he is confident he will get them from other NATO nations.
At the same time, he said he still has a critical need for trainers that he has yet to fill, and the expected announcement about a forthcoming build-up in U.S. forces has been delayed as the Pentagon juggles the numbers in the face of an ongoing review by the new Obama administration.
Allies, said Craddock, "expected they would be asked to step up and do more. Now it's a matter of political will."
Leaders have speculated that good will surrounding the inauguration of President Barack Obama would generate greater efforts by NATO allies to send additional resources to Afghanistan. Pentagon officials have said they expect to send as many as 30,000 more troops there, including several brigades in the coming months.
---
Obama is pretty much doing the same as Bush, execpt in Afghanistan. You don't need to be a psychic to say that the American will fail in Afghanistan just like the Soviets failed.
Newest US troops in dangerous region near Kabul
Posted 2/17/2009 7:29 AM ET
By Jason Straziuso, Associated Press Writer
LOGAR PROVINCE, Afghanistan — Close to 3,000
American soldiers who recently arrived in Afghanistan to secure two violent provinces near Kabul have begun operations in the field and already are seeing combat, the unit's spokesman said Monday.
The new troops are the first wave of an expected surge of reinforcements this year. The process began to take shape under President George Bush but has been given impetus by President Barack Obama's call for an increased focus on Afghanistan.
U.S. commanders have been contemplating sending up to 30,000 more soldiers to bolster the 33,000 already here, but the new administration is expected to initially approve only a portion of that amount. White House press secretary Robert Gibbs said Monday the president would decide soon.
The new unit -- the 3rd Brigade Combat Team of the 10th Mountain Division -- moved into Logar and Wardak provinces last month, and the soldiers from Fort Drum, N.Y., are now stationed in combat outposts throughout the provinces.
Militants have attacked several patrols with rifles and rocket-propelled grenades, including one ambush by 30 insurgents, Lt. Col. Steve Osterholzer, the brigade spokesman, said.
Several roadside bombs also have exploded next to the unit's MRAPs -- mine-resistance patrol vehicles -- but caused no casualties, he said.
"In every case our vehicles returned with overwhelming fire," Osterholzer said. "We have not suffered anything more than a few bruises, while several insurgents have been killed."
Commanders are in the planning stages of larger scale operations expected to be launched in the coming weeks.
Militant activity has spiked in Logar and Wardak over the last year as the resurgent Taliban has spread north toward Kabul from its traditional southern power base. Residents say insurgents roam wide swaths of Wardak, a mountainous province whose capital is about 35 miles from Kabul.
The region has been covered in snow recently, but Col. David B. Haight, commander of the 3rd Brigade, said last week that he expects contact with insurgents to increase soon.
"The weather has made it so the enemy activity is somewhat decreased right now, and I expect it to increase in the next two to three months," Haight said at a news conference.
Haight said he believes the increase of militant activity in the two provinces is not ideologically based but stems from poor Afghans being enticed into fighting by their need for money. Quoting the governor of Logar, the colonel called it an "economic war."
Afghan officials "don't believe it's hardcore al-Qaida operatives that you're never going to convert anyway," Haight said. "They believe that it's the guys who say, 'Hey you want $100 to shoot an RPG at a Humvee when it goes by,' and the guy says, 'Yeah I'll do that, because I've got to feed my family.'"
Still, Haight said there are hardcore fighters in the region, some of them allied with Jalaludin Haqqani and his son Siraj, a fighting family with a long history in Afghanistan. The two militant leaders are believed to be in Pakistan.
A new report from the RAND Corp. think tank argues against that approach. It contends a "game-changing" strategy is urgently needed in Afghanistan that would have the additional troops train Afghan security forces rather than directly confront militants.
"It is unlikely the United States and NATO (on their own) will defeat the Taliban and other insurgent groups in Afghanistan," said the paper, which was being released Tuesday.
Logar Gov. Atiqullah Ludin said at a news conference alongside Haight that U.S. troops will need to improve both security and the economic situation.
"There is a gap between the people and the government," Ludin said. "Assistance in Logar is very weak, and the life of the common man has not improved."
Ludin also urged that U.S. forces be careful and not act on bad intelligence to launch night raids on Afghans who turn out to be innocent.
It is a common complaint from Afghan leaders. President Hamid Karzai has long pleaded with U.S. forces not to kill innocent Afghans during military operations and says he hopes to see night raids curtailed.
Pointing to the value of such operations, the U.S. military said Monday that a raid in northwest Badghis province killed a feared militant leader named Ghulam Dastagir and eight other fighters.
Other raids, though, have killed innocent Afghans who were only defending their village against a nighttime incursion by forces they didn't know, officials say.
"We need to step back and look at those carefully, because the danger they carry is exponential," Ludin said.
Haight cautioned last week that civilian casualties could increase with the presence of his 2,700 soldiers.
"We understand the probability of increased civilian casualties is there because of increased U.S. forces," said the colonel, who has also commanded Special Operations task forces in Afghanistan and Iraq. "Our plan is to do no operations without ANA (Afghan army) and ANP (Afghan police), to help us be more precise."
The U.S. military and Afghan Defense Ministry announced last week that Afghan officers and soldiers would take on a greater role in military operations, including in specialized night raids, with the aim of decreasing civilian deaths.
The presence of U.S. troops in Wardak and Logar is the first time such a large contingent of American power has been so close to Kabul, fueling concerns that militants could be massing for a push at the capital. Haight dismissed those fears.
"Our provinces butt up against the southern boundary of Kabul and therefore there is the perception that Kabul could be surrounded," Haight said. "But the enemy cannot threaten Kabul. He's not big enough, he's not strong enough, he doesn't have the technology. He can conduct attacks but he can't completely disrupt the governance in Kabul."
(This version CORRECTS Corrects spelling to Osterholzer, sted Osterhozer thruout. This item moved previously on a hold-for-release basis and is now available for use.)
Copyright 2009 The Associated Press. All rights reserved. This material may not be published, broadcast, rewritten or redistributed.
---
Obama, just a new re-incarnation of Bush! But his supporters say the Obama police state is a better kinder police state.
Justice still keeping files from public
Despite Obama's vow, Bush secret-data decisions protected
by Michael J. Sniffen - Feb. 17, 2009 12:00 AM
Associated Press
WASHINGTON - Despite President Barack Obama's vow to open government more than ever, the Justice Department is defending Bush administration decisions to keep secret many documents about domestic wiretapping, data collection on travelers and U.S. citizens, and interrogation of suspected terrorists.
In half a dozen lawsuits, Justice lawyers have opposed formal motions or spurned out-of-court offers to delay court action until the new administration rewrites Freedom of Information Act guidelines and decides whether the new rules might allow the public to see more.
In only one case has the Justice Department agreed to suspend a FOIA lawsuit until the disputed documents can be re-evaluated under the yet-to-be-written guidelines. That case involves negotiations on an anti-counterfeiting treaty, not the more controversial, secret anti-terrorism tactics that spawned the other lawsuits as well as Obama's promises of greater openness.
"The signs in the last few days are not entirely encouraging," said Jameel Jaffer, an attorney for the American Civil Liberties Union, which filed several lawsuits seeking the Bush administration's legal rationales for warrantless domestic wiretapping and for its treatment of terrorism detainees.
The documents sought in these lawsuits "are in many cases the documents that the public most needs to see," Jaffer said.
"It makes no sense to say that these documents are somehow exempt from President Obama's directives."
Groups that advocate open government, civil liberties and privacy were overjoyed that Obama on his first day in office reversed the FOIA policy imposed by Bush's first attorney general, John Ashcroft. The Bush Justice Department said it would use any legitimate legal basis to defend withholding records from the public. Obama pledged "an unprecedented level of openness in government" and ordered new FOIA guidelines written with a "presumption in favor of disclosure."
But Justice's actions in courts since then have cast doubt on how far the new administration will go.
In a FOIA case seeking access to the rules governing the FBI's Investigative Data Warehouse - a computer database containing 1 billion searchable documents about Americans and foreigners - Justice lawyers told a district court here Thursday, "It is not clear that the new guidelines, once issued, will be retrospective to FOIA requests that the agency already has finished processing."
They asked the court to rule instead that the FBI has done enough.
The bureau has reviewed 878 pages, withheld 76 and released some portions of 802.
---
Don't get too close to Emperor Obama
Source
Only government planes are allowed within 12 miles of Emperor Obama. Private pilots are forbidden from loitering within 30 miles of Emperor Obama. Parachuting, hang gliders, hot-air balloons, model aircraft and rockets and unmanned aircraft systems are forbidden within the 30-mile radius of Emperor Obama. I'm sorry I said Emperor Obama instead of President Obama, but it sure sounds like he is an Emperor! But of course this doesn't sound much different then when Emperor Bush came to Phoenix and effectivelly shut down all civilian aircraft in the Phoenix metro area for his visits.
Obama visit may snarl roads, private flights
Mike Branom, Tribune
February 16, 2009 - 3:04PM , updated: February 17, 2009 - 4:50PM
A presidential motorcade is a sure thing to muck up traffic, but the departure of Air Force One is not expected to affect operations at Phoenix Sky Harbor International Airport.
However, private pilots and others, including news helicopters, will have their activities severely curtailed.
President Barack Obama, in the East Valley to discuss the housing crisis, leaves shortly before 1 p.m. today. Before that, he'll speak at Dobson High School, 1501 W. Guadalupe Road in Mesa.
Officials at Sky Harbor said that travelers shouldn't notice anything different at the airport, aside from the distinctive white-and-blue Boeing 747-200B parked on the tarmac.
"We have hosted Air Force One many times in recent years and have never had flight delays as a result of a presidential visit," airport spokeswoman Julie Rodriguez told the Tribune.
But it will be a different story on the roads and highways.
When the motorcade departs from the Paradise Valley hotel where Obama is staying overnight en route to Dobson and then to the airport, authorities will create "rolling closures." During these, police will block off intersections in advance of the motorcade's arrival, and reopen them once the caravan passes.
Mesa police said Guadalupe Road, in front of the high school, will be closed between Alma School and Dobson roads, from 9 a.m. until about noon.
Although details have yet to be announced, it is expected that the motorcade's travels throughout the Valley will create delays. Also, the area around Dobson High most likely will be blocked off to traffic.
Also, flight restrictions over the Valley, which went into effect Tuesday morning, will end this afternoon, according to the Federal Aviation Administration.
Within 12 nautical miles of Sky Harbor, from the ground to 18,000 feet above sea level, the only air traffic will be federal, military and police activity, approved air ambulance flights, plus regularly scheduled commercial passenger and cargo carriers.
Between 12 and 30 nautical miles, private pilots are permitted to land and depart from local airports, but aircraft are forbidden from loitering in the area.
Forbidden within the 30-mile radius is: flight training, practice instrument approaches, aerobatic flights, parachuting, ultralight aircraft, gliders, hang gliders, hot-air balloons, crop dusters, animal population control flight operations, banner towing, model aircraft and rockets and unmanned aircraft systems.
---
Government spending was 21 percent of GDP last year [2008].
[Obama's] plans would raise the federal portion of the U.S. economy to about 31 percent, more than twice the level after eight years of FDR's historic New Deal spending.
In the 1930s federal outlays represented just 3.4 percent of the nation's economy. Roosevelt's efforts to fight the Depression with government spending caused outlays to rise to 12 percent by 1941.
So who says we ain't a socialist state yet!!!!!
Obama aid dwarfs FDR's New Deal
Effort is sweeping and historic in scope, but many unsure of success
by Tom Raum - Feb. 21, 2009 12:00 AM
Associated Press
WASHINGTON - In sheer size, the economic measures announced by President Barack Obama to address "a crisis unlike we've ever known" are remarkable, rivaling and in many cases dwarfing the New Deal programs that Franklin D. Roosevelt famously created to battle the Great Depression.
Winning approval was a political tour de force for the new administration. Yet gloom and uncertainty persist about the plan's ability to deliver a cure for the economy's severe ailments.
Stocks plunged to six-year lows after the burst of bill signings, bailout announcements and presidential pledges.
And polls indicate Americans are increasingly worried about losing jobs and not having enough money to pay their bills.
Why the skepticism?
Maybe there has just been too long a run of bad news. Arthur Hogan, chief market analyst at Wachovia Securities, blames much of the negativity on "the fact that people are so down; they have no confidence in the future."
Republicans complain about wasted money. Some Democratic supporters say the plan won't help very much very quickly.
Former President Bill Clinton, who gives Obama high marks for straight talk in telling the nation the bad economic news, said Obama may try a more upbeat approach now.
"I just want the American people to know that he's confident that we are going to get out of this and he feels good about the long run," Clinton said Friday on ABC News' "Good Morning America."
Patience, pleads the administration. Lawrence Summers, Obama's chief economic adviser, said the success of the plan will be measured "not by daily market reaction but what happens over time." Still," Summers said, "we are moving rapidly."
No matter how people feel about the plans, they are undoubtedly ambitious - and expensive. Taxpayers will be paying for them long after Obama is out of office.
So far in his month-old presidency:
• Congress passed and Obama signed into law a record $787 billion mix of tax cuts, job-creating projects and aid to struggling states.
• The president pledged up to $275 billion in federal aid to help stem a tidal wave of home foreclosures.
• The Treasury Department and the Federal Reserve announced financial-rescue steps that could send up to $2 trillion coursing through the economy.
In all, the plans would raise the federal portion of the U.S. economy to about 31 percent, more than twice the level after eight years of FDR's historic New Deal spending.
"All Americans have a stake in making this work," Treasury Secretary Timothy Geithner said.
You wouldn't know it from the reaction. Rather than the bipartisan support Obama first sought, Republicans remain in nearly unanimous opposition. They contend that the stimulus package is tainted by wasteful spending and that the mortgage-foreclosure plan leaves out many struggling homeowners while rewarding lenders and borrowers who made bad decisions. Some Republican governors from the South even talk of spurning the new federal money.
Even while supporting the initiatives, some Democrats suggest the efforts won't deliver enough quick help to make a difference, despite the eye-popping price tags.
Joblessness keeps rising. Consumers and businesses are cutting back. Bank lending remains down. Auto demand keeps falling, with two Detroit automakers saying this week that they may need up to $21.6 billion more in U.S. loans beyond what they received in January.
"There is a degree of skepticism involved," said Ross Baker, a Rutgers University political-science professor. "Not surprisingly, people are wary of some very expensive proposals with no guarantee of success or even a high probability of how well they'll work."
Economists argue that many of the benefits from the Obama initiatives will take months, if not years, to arrive. The administration cites the complexities of trying to heal a downturn that has turned global.
"The president balances the challenges that we face with the understanding that we're going to get through tough times as we always have in this country," White House spokesman Robert Gibbs said Friday, when asked about Clinton's comments.
As for the New Deal, it's hard to compare Obama's moves with FDR's initiatives. They were a series of programs spread over years, not all-encompassing packages like the new proposals.
Rather than creating jobs, some of Roosevelt's signature programs dealt with revamping government structure, such as securities-market regulation and insuring bank deposits. His biggest idea, Social Security, didn't have much impact until later.
The largest of Roosevelt's job programs, the Works Progress Administration begun in 1935, did provide jobs across the nation building roads, bridges and other projects. Among his other job-creating programs were the Civilian Conservation Corps, the Civil Works Administration, the Public Works Administration and the Tennessee Valley Authority.
Historians and economists still debate whether FDR's New Deal fixed the crisis or prolonged the pain.
After taking office in 1933, Roosevelt first tried to slash government jobs and spending. His efforts to balance the budget in 1937 backfired and triggered a new recession within the broader Depression.
The 1930s began with federal outlays representing just 3.4 percent of the nation's economy as measured by the gross domestic product. Roosevelt's efforts to fight the Depression with government spending caused outlays to rise to 10.3 percent of GDP by 1939 and to 12 percent by 1941, on the eve of U.S. entry into World War II. By contrast, government spending was 21 percent of GDP last year. Obama's economic-recovery policies are expected to bring it up to 30 percent or more.
---
Vote for John McCain for 8 more years of war
Looks like Obama will give you 8 more years of war too!
Didn't the same two thirds of the population support George W. Bush's war in Afghanistan and Iraq? Give those idiots some time and when the freedom fighters in Afghanistan start killing Americans like the freedom fighters in Iraq are killing Americans Obama's support of the flawed Afghanistan war will fall just like George W. Bush support fell.

Poll: Most back Obama's troop plan for Afghanistan

By Susan Page, USA TODAY

WASHINGTON — Americans by 2-1 approve of President Obama's decision to send 17,000 additional U.S. troops to Afghanistan despite skepticism over whether they can succeed in stabilizing the security situation there within the next few years. A USA TODAY/Gallup Poll taken Friday through Sunday shows a reservoir of support for Obama's first major military decision as president. Two-thirds express approval of his order to expand the U.S. deployment to Afghanistan by 50%; one third disapprove.

Half of those surveyed say they'd support a decision to send another 13,000 troops, which would fulfill the request by U.S. commanders to nearly double the U.S. force in Afghanistan even as troops are being withdrawn from Iraq.

Even so, there is measurable opposition. One of four Americans says Obama should reduce the number of U.S. troops in Afghanistan or withdraw them entirely. That opposition is stronger among Obama's fellow Democrats than among Republicans: 29% of Democrats, compared to 17% of Republicans.

The U.S.-led war in Afghanistan was launched a month after Sept. 11 attacks in 2001, targeting the al-Qaeda terrorists who planned the attacks and the fundamentalist Taliban regime that sheltered them. About 36,000 U.S. troops are now on duty there.

Americans are split over whether the United States will be able to establish a stable enough situation in Afghanistan within the next three years to allow most U.S. troops to be withdrawn. While 49% say they will, another 46% say they won't. Most of those predict a stalemate between the United States and the Taliban.

The survey of 1,013 adults, taken by landline and cellphone, has a margin of error of +/— 3 percentage points.
---
Afghan bomb kills 4 US troops; deadliest this year
By HEIDI VOGT, Associated Press Writer Heidi Vogt, Associated Press Writer
KABUL – A roadside bomb killed four U.S. troops patrolling in southern Afghanistan on Tuesday in the deadliest single attack on international forces this year. An Afghan civilian working with the Americans also died.
The troops were patrolling with Afghan forces when their vehicle struck a bomb Tuesday afternoon, the U.S. military said in a statement. The military did not release the attack's location pending the notification of relatives.
The previous deadliest attack against U.S. forces this year was an explosion in Zabul province in January that killed three troops.
Twenty-nine Americans troops have died in Afghanistan this year, far surpassing the eight U.S. forces killed in the first two months of 2008.
The U.S. is increasing troop levels in Afghanistan. A record 38,000 U.S. forces now operate in the country, many in Taliban strongholds in the dangerous south.
President Barack Obama last week announced the deployment of 17,000 more troops to Afghanistan, adding to the 38,000 American forces already fighting a strengthening insurgency. Taliban militants have increased attacks the last three years and now hold sway in large areas of countryside.
Taliban bombs once caused relatively few casualties among soldiers in armored vehicles, but more powerful charges now cause massive damage even to well protected Humvees.
In a separate incident in southern Helmand province on Monday, coalition and Afghan forces killed 16 militants when responding to gunfire from insurgents on their convoy, the U.S. said in another statement. There were no other reports of casualties, the statement said.
---
Afghan, Pakistani diplomats in US for 'rethink'
WASHINGTON (AFP) — The top diplomats of Pakistan and Afghanistan were opening talks in Washington Tuesday as US senators called for a rethink on billions of dollars sent to Islamabad for the "war on terror."
The talks come as part of a reassessment of US strategy by President Barack Obama, who plans to deploy another 17,000 US troops to Afghanistan and to put further focus on fighting extremism in Pakistan.
The foreign ministers of Afghanistan and Pakistan -- which have often been at loggerheads over the conflict -- will meet Tuesday ahead of a three-way session Thursday with US Secretary of State Hillary Clinton.
Clinton "looks forward to meeting with both ministers, hearing their views, and of course sharing our views on what we believe is going on, on the ground," State Department spokesman Robert Woods said.
Ahead of the meeting, a congressional watchdog faulted a lack of a "comprehensive plan" for fighting extremism in Pakistan's Federally Administered Tribal Areas (FATA) bordering Afghanistan.
The tribal areas have never been fully under Pakistani control and are believed to be the hideout for Al-Qaeda and Taliban militants forced out of Afghanistan following the 2001 US military offensive.
The Government Accountability Office, the investigative arm of Congress, found the United States has spent 12.3 billion dollars since 2002 aiming to end the "terrorist threat" on Pakistan's border with Afghanistan.
"Despite six years of US and Pakistani government efforts, Al-Qaeda has regenerated its ability to attack the United States and continues to maintain a safe haven in Pakistan?s FATA," it said.
It found that more than 70 percent of the US assistance was military spending -- mostly funding for operations. The report said it did not include covert operations.
Senator Robert Menendez, who heads the Foreign Relations subcommittee on international assistance, said the report showed US aid to Pakistan was not working.
"It's clear that the strategy in place over the past seven years must be rethought if we are to improve our security," said Menendez, a member of Obama's Democratic Party.
"I look forward to working on a policy that focuses assistance on institutions that help ensure long-term stability and minimize the threat in Pakistan," he said.
Senator Tom Harkin said the previous administration of George W. Bush had "thrown billions of taxpayer dollars down a rabbit hole.
"This colossal foreign policy and national security failure is yet another legacy item of the Bush administration -- one that we will work to turn around with President Obama and the new Congress," he said.
A deputy to Pakistan's top Taliban commander on Monday declared a unilateral ceasefire in Bajaur, one of the seven federally administered tribal areas, after a months-long operation by Pakistani forces.
Islamabad says the offensive proves its commitment to crush the insurgents.
But Democratic Representative George Miller, who recently traveled to Afghanistan, said that Pakistan was not fully committed to fighting extremists, citing the role of the country's powerful intelligence agency.
"In Pakistan, we can no longer suffer the duplicity of that government in sort of fighting and not fighting and supporting and not supporting," Miller said.
He went to Afghanistan and Italy, the current chairman of the Group of Eight rich nations, with House Speaker Nancy Pelosi.
Pelosi, one of Obama's key allies, flatly rejected comparisions between Afghanistan and Vietnam, where the US-allied southern government fell after years of troop buildups by Washington.
"This is not the beginning of an escalation," Pelosi said.
Obama plans to deploy some 17,000 extra troops to Afghanistan. Currently about 70,000 foreign troops -- 38,000 of them from the United States -- are stationed in the country.
---
The title says in 18 months all the troops will be out of Iraq, but thats a lie! The fine print says all the troops will be out by December 2011. Which means Obama won't have all of the troops out of Iraq for almost 3 years!
Of course given the nature of politicians change their stories on the fly (a polite way of saying they lie) who knows when the troops will really be out of Iraq? Will it really be in 2012 when Obama is running for re-election or will he pass it on to the next president in 2013.
Of course Obama has this new improved war in Afghanistan so how long will that go on? The Soviets got their butts kicked in Afghanistan and of course we will almost certainly get our buts kicked in Afghanistan!
If you ask me it looks like Obama just moved the Iraq war from the front burner of the stove to the back burner, while moving the Afghanistan war from the back burner to the front burner.
This sounds like a repeat of that Goldwater Johnson thing. Goldwater said he was going to kick some commie ass in Vietnam, and Johnson said he wouldn't. But then Johnson had the American Empire invade Vietnam anyhow?
Obama sounds like he is taking the path of Johnson!
Officials: Most troops out of Iraq in 18 months
By PAMELA HESS and ANNE GEARAN, Associated Press Writers Pamela Hess And Anne Gearan
WASHINGTON – President Barack Obama plans to order that all U.S. combat troops be withdrawn from Iraq by August 2010, administration officials said Tuesday, ending the war that defined his upstart presidential campaign three months later than he had promised.
Obama's plan would pull out all combat troops 19 months after his inauguration, although he had promised repeatedly during the 2008 campaign that he would withdraw them 16 months after taking office. That schedule, based on removing roughly one brigade a month, was predicated on commanders determining that it would not endanger U.S. troops left behind or Iraq's fragile security.
Pledging to end the war in 16 months helped to build enormous grass-roots support for Obama's White House bid.
The withdrawal plan — an announcement could come as early as this week — calls for leaving a large contingent of troops behind, between 30,000 and 50,000 troops, to advise and train Iraqi security forces and to protect U.S. interests.
Also staying beyond the 19 months would be intelligence and surveillance specialists and their equipment, including unmanned aircraft, according to two administration officials who spoke on condition of anonymity because the plan has not been made public.
The complete withdrawal of American forces will take place by December 2011, the period by which the U.S. agreed with Iraq to remove all troops.
A senior White House official said Tuesday that Obama is at least a day away from making a final decision. He further said an announcement on Wednesday was unlikely, but he said that Obama could discuss Iraq during a trip to North Carolina on Friday.
About 142,000 U.S. troops are in Iraq, roughly 14 brigades, about 11,000 more than the total in Iraq when President George W. Bush announced in January 2007 that he would "surge" the force to put down the insurgency. He sent an additional 21,000 combat troops to Baghdad and Anbar province.
Although the number of combat brigades has dropped from 20 to 14, the U.S. has increased the number of logistical and other support troops. A brigade is usually about 3,000 to 5,000 troops.
Obama's campaign promise to withdraw troops in 16 months was based on a military estimate on what would be an orderly pace of removing troops, given the logistical difficulties of removing so many people and tons of equipment, a U.S. military official said.
The 19-month strategy is a compromise between commanders and advisers who are worried that security gains could backslide in Iraq and those who think the bulk of U.S. combat work is long since done.
The White House considered at least two other options to withdraw combat forces — one that followed Obama's 16-month timeline and one that stretched withdrawal over 23 months, The Associated Press reported earlier this month.
Some U.S. commanders have spoken more optimistically in recent months about prospects for reducing the force.
Marine Maj. Gen. John Kelly, who just left his job overseeing U.S. operations in Anbar Province, said Tuesday that he saw violence drop to an almost "meaningless" level over the past year.
Kelly told reporters Tuesday that in the area that was the home ground of the Sunni insurgency, American combat forces don't have enough to do and most could have pulled out months ago.
"There is still a security issue there, but in the province I just left the (Iraqi) army and the police are more than handling the remnants of what used to be al-Qaida," Kelly said. "There's other parts of Iraq that aren't going quite as well but all of Iraq is doing pretty well."
According to officials, Obama had requested a range of options from his top military advisers, including one that would have withdrawn troops in 16 months. Defense Secretary Robert Gates and Adm. Mike Mullen, chairman of the Joint Chiefs of Staff, had recently forwarded withdrawal alternatives to the White House for Obama's consideration.
In addition to the U.S. troops to be withdrawn, there is a sizable cadre of contractors who provide services to them who would pack their bags as well. There were 148,050 defense contractor personnel working in Iraq as of December, 39,262 of them U.S. citizens.
There are more than 200 U.S. military installations in Iraq. According to Army officials interviewed by the Government Accountability Office, it can take up to two months to shut down small outposts that hold up to 300 troops. Larger entrenched facilities, like Balad Air Base, could take up to 18 months to close, according to the GAO.
As of Monday, at least 4,250 members of the U.S. military had died in the Iraq war since it began in March 2003, according to an Associated Press count. More than 31,000 have been injured. An additional 35,841 have received medical air transport due to non-hostile incidents.
Congress has approved more than $657 billion so far for the Iraq war, according to a report last year from the Congressional Research Service.
Associated Press writers Jennifer Loven, Robert Burns, Lolita C. Baldor, Steven Hurst, Anne Flaherty, Richard Lardner and Pauline Jelinek contributed to this report.
---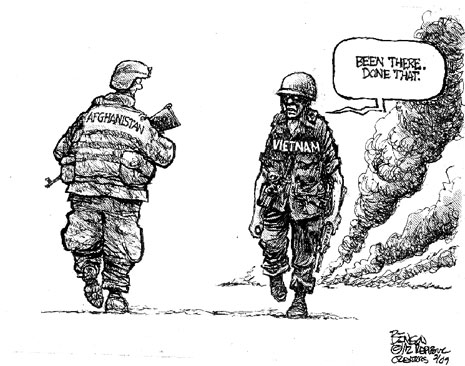 ---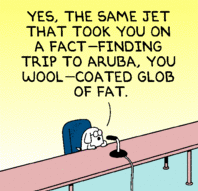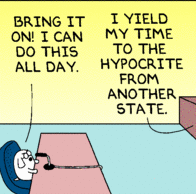 ---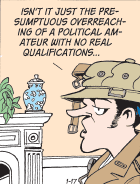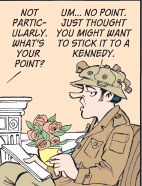 ---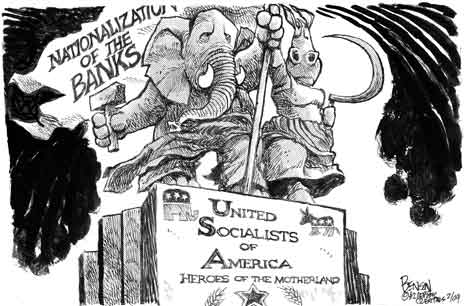 ---
How else would have he gotten elected if he didn't lie about cutting pork????
Obama backing down on vows to cut pork
McCain criticizes funding for lawmakers' pet projects
Mar. 3, 2009 12:00 AM
Associated Press
WASHINGTON - Despite campaign promises to take a machete to lawmakers' pet projects, President Barack Obama is quietly caving to funding nearly 8,000 of them this year, drawing a stern rebuke Monday from his Republican challenger in last fall's election.
Arizona Sen. John McCain said it is "insulting to the American people" for Obama's budget director to indicate over the weekend that the president will sign a $410 billion spending bill with what Republicans critics say is nearly $5.5 billion in pet projects known as earmarks.
"So much for the promise of change," McCain said.
Democrats contend that earmarks in the bill total $3.8 billion, less than 1 percent of the amount Congress is approving to finance government programs through September. Taxpayers for Common Sense, an anti-earmark watchdog group, counts them differently and found $7.7 billion worth.
Democrats are not alone in funding pet projects. As the minority party in Congress, Republicans claim roughly 40 percent of earmarks, though McCain and House GOP leader John Boehner of Ohio, among others, refuse them.
White House Budget Director Peter Orsazg said Sunday that the new administration wants to "move on . . . get this bill done, get it into law and move forward."
Obama is hardly the first president to promise to make Congress change its pork-barreling ways, and he certainly won't be the last. But he is the first to retreat so quickly, after only six weeks in the White House.
The president, however, hit a brick wall with House Speaker Nancy Pelosi of California, Senate Majority Leader Harry Reid of Nevada and other Democrats who treasure their right to send taxpayer money to their states and districts.
"I'm here to tell everyone that we have an obligation as members of Congress to help direct spending to our states," Reid told reporters last week.
That's the kind of treatment President George W. Bush got from his allies in Congress after he took office eight years ago. Like Obama, he also was firmly rebuffed.
In Bush's case, it was top GOP leaders - House Speaker Dennis Hastert of Illinois and House Majority Whip Tom DeLay of Texas - who defended earmarks and made the White House back off. They saw them as helping endangered Republicans keep their seats and a way to reward rank-and-file lawmakers willing to toe the leadership's line.
---
The main purpose of government is to steal money from the governed and give it to special intrest groups of the rulers. Roads, yea, every once in a while they build a road or some real project the people can use - every once in a while. But more often then not it is earmarks for special interest groups.
Senate ignores McCain, keeps earmarks
Mar. 4, 2009 09:36 AM
Associated Press
WASHINGTON - The Senate voted overwhelmingly to preserve thousands of earmarks in a $410 billion spending bill on Tuesday, brushing aside Sen. John McCain's claim that President Barack Obama and Congress are merely conducting business as usual in a time of economic hardship.
McCain's attempt to strip out an estimated 8,500 earmarks failed on a vote of 63-32. The Arizona senator's proposal also would have cut roughly $32 billion from the measure and kept spending at last year's levels in several federal agencies.
Last year's Republican presidential candidate said both he and Obama pledged during the campaign to "stop business as usual in Washington," and he quoted the president as having said he would go line by line to make sure money was spent wisely.
The White House has said that Obama intends to sign the legislation, casting it as leftover business from 2008. Spokesman Robert Gibbs pledged on Monday the White House will issue new guidelines covering earmarks for future bills.
McCain's proposal drew the support of 32 Republicans and two Democrats, and the outcome reflected the enduring value of earmarks to lawmakers. While polls routinely show these pet projects to be unpopular, local governments and constituents often covet them.
The maneuvering came on legislation to assure continued funding for several federal agencies past March 6. At $410 billion, the bill represents an 8 percent increase over last year's spending levels, more than double the rate of inflation.
Republicans made two other attempts during the day to reduce spending in the bill, but failed both times.
Sen. Dan Inouye, D-Hawaii, chairman of the Senate Appropriations Committee, said McCain's call to hold spending level with a year ago "doesn't account for inflation." As an example, he said some programs would have to be cut if federal workers were to receive a pay raise.
The House passed the legislation last week, and Democratic leaders are working to clear it without changes so the president can sign it by Friday.
While Republican opposition in the House focused more on the bill's overall spending, McCain and allies turned the Senate spotlight squarely on earmarks.
"How does anyone justify some of these earmarks: $1.7 million for pig odor research in Iowa; $2 million for the promotion of astronomy' in Hawaii; $6.6 million for termite research in New Orleans; $2.1 million for the Center for Grape Genetics in New York," he said.
He also noted the legislation includes 14 earmarks requested by lawmakers for projects sought by PMA Group, a lobbying company at the center of a federal corruption investigation.
Sen. Tom Coburn, R-Okla., said he would seek to have them removed.
Taxpayers for Common Sense estimates the legislation contains 8,570 disclosed earmarks worth $7.7 billion. House Democrats declined to provide an estimate of the number of pet projects in the bill, and put their cost at $3.8 billion.
Democrats also say the value of earmarks is 5 percent lower than the last time Congress approved spending bills for an entire year.
The earmark issue has been a thorny one for Obama, who successfully urged lawmakers to pass an economic stimulus bill without them. He deferred to lawmakers on the legislation now moving through Congress, but his aides have worked to make it appear that he is merely acquiescing in what lawmakers and the White House had been prepared to do at the end of the Bush administration.
McCain ridiculed that argument in an animated speech on the Senate floor on Monday, asking, "does that mean that last year's president will sign this pork-barrel bill?"
At the White House, Gibbs was deflecting questions on the same subject.
Asked why Obama would sign the bill when he was overturning numerous policies put in place by former President George W. Bush, he said, "I think that you'll see that the president is going to draw some very clear lines about what's going to happen going forward."
---
Congress must pass stopgap to keep government open
By Andrew Taylor, Associated Press Writer
WASHINGTON — With a $410 billion catchall spending bill stalled in the Senate and a midnight deadline looming, Congress began rushing through stopgap legislation Friday to keep the government running for another five days. On Thursday night, Republicans in the Senate unexpectedly put the brakes on the sweeping measure that would finance most government agencies and also includes some big spending increases and lawmakers' pet projects.
With most Republicans denouncing the bill as too costly and a handful of Democrats opposing it as well, Majority Leader Harry Reid, D-Nev., called off a key procedural vote -- just one vote short of the 60 needed to send the measure to the White House.
Several Republicans who support the bill withheld their support of the procedural vote in order to force Reid to allow other Republicans to offer amendments, including ones to extend a local school voucher program in Washington, D.C., and to require lawmakers to approve their pay hikes instead of getting an automatic cost-of-living raise every year.
With the vote postponed until at least Monday, both the House and Senate need to pass a stopgap spending measure by midnight Friday to prevent a shutdown of most domestic agencies. Midnight is when a temporary law that keeps the government in business, mostly at 2008 spending levels, expires. The House began debating the temporary measure Friday morning, to be followed by the Senate.
If the larger spending bill ends up being amended by the Senate, the House would again have to act on that bill, giving Republicans further chances to launch political attacks.
In fact, Reid says House Speaker Nancy Pelosi, D-Calif., has threatened to pull the plug on the measure altogether if it is amended by the Senate. The government would instead run on automatic pilot under legislation keeping agencies operating at current levels. That would deny senators and House members all of their pet projects.
"She said 'We have put our members through a lot over here on this appropriations bill. I am not going to put them through any more,'" Reid recalled on Wednesday.
Amid the debate over spending, the government on Friday delivered more bad economic news, a spike in unemployment to 8.1 percent. That prompted the top House Republican to call for a freeze on spending until the end of the fiscal year and plead with President Barack Obama to veto the Senate measure.
Rep. John Boehner, R-Ohio, said the bill is loaded with "unscrutinized taxpayer-funded earmarks" that are "a textbook example of why Americans have grown so fed up with Washington."
Democrats and their allies control 58 seats, though at least a handful of Democrats oppose the measure over its cost or changes in U.S. policy toward Cuba. That meant Democrats needed five or six Republican votes to advance the bill. But key Republicans such as Olympia Snowe of Maine withheld their votes in order to force Reid to open the measure to further amendments.
The huge, 1,132-page spending bill awards big increases to domestic programs and is stuffed with pet projects sought by lawmakers in both parties. The measure has an extraordinary reach, wrapping together nine spending bills to fund the annual operating budgets of every Cabinet department except for Defense, Homeland Security and Veterans Affairs.
The measure was written mostly over the course of last year, before projected deficits quadrupled and Obama's economic recovery bill left many of the same spending accounts swimming in cash. Initially, the bill attracted bipartisan support, but most Republicans developed sticker shock in the wake of enactment of the $787 billion economic stimulus bill.
And, to the embarrassment of Obama -- who promised during last year's campaign to force Congress to curb its pork-barrel ways -- the bill contains 7,991 pet projects totaling $5.5 billion, according to calculations by the GOP staff of the House Appropriations Committee.
---
---
Lets face it, this isn't a plan to rescue the economy. They are just using the recession as an excuse to give away 10 times as much pork as they normally give away.
March 06, 2009 |
Earmark-laden bill a line in the sand for pork-barrel politics
Obama vowed to press reforms; many doubtful
by Dan Nowicki - Mar. 6, 2009 12:00 AM
The Arizona Republic
The Senate is getting ready to pass a giant spending bill stuffed with congressional pet projects that critics decry as unnecessary pork.
But the bill could be a last gasp for Capitol Hill's entrenched earmark culture if President Barack Obama follows through with a campaign commitment to crack down on the free-spending practice that exploded in the 1990s under a Republican-controlled Congress.
Earmark reformers are skeptical, though. They point to stiff resistance from Democratic leaders and Obama's reluctance to veto the pending $410 billion legislation as signs that business will continue as usual. The 8,570 earmarks in the bill represent $7.7 billion, according to the nonpartisan group Taxpayers for Common Sense. Action on the bill, which wraps together nine spending measures that fund the operating budgets of much of the executive branch, was postponed in the Senate on Thursday night. The House has approved the legislation, and the Senate is expected to vote next week.
"I hope that they will want to fix this broken process and corrupt system," said Sen. John McCain, R-Ariz., Obama's presidential opponent and an outspoken earmark foe. "I have spoken to the vice president, and I have spoken to the president about efforts we can make together to try to fix it. The biggest hurdle is the Democrats and the Republicans in Congress who love this corrupt practice."
Earmarking in and of itself is not corrupt, although McCain and other critics point to a series of earmark-related scandals that resulted in the prosecution of Congress members. But it does give powerful lawmakers a way to fund projects that they deem priorities without going through the normal appropriations procedure. Some high-powered lobbyists actively seek earmarks for clients, and the lack of public scrutiny fuels fears of shady deals.
Most lawmakers don't share McCain's sentiment that the earmarks inevitably breed corruption and waste. They say that occasional abuses such as Alaska's notorious "Bridge to Nowhere" are anomalies and that most earmarks serve constituents well. And many appropriators view the anti-earmark crusade as a thinly veiled power play to wrest away their traditional ability to direct federal spending.
"An earmark's worth is in the eye of the beholder," said Rep. Ed Pastor, D-Ariz., a member of the influential House Appropriations Committee whose name is attached to assorted omnibus earmarks worth more than $128.5 million.
"Ninety-eight percent of the budget and projects are determined by the president; 2 percent are determined by the entire Congress, both the Senate and the House. For all practical purposes, most of the earmarks are going to cities, towns, states or hospitals and educational institutions."
Pastor pointed to the upgraded control tower at Phoenix Sky Harbor International Airport as a vital local project that started as an earmark. The recently opened Metro light rail began with an earmark to study its feasibility, he said.
The spending bill under consideration includes a Pastor-supported expenditure of $91.8 million to expand the system.
Some reformers say their concerns are often as much or more about the behind-the-scenes wheeling and dealing and lack of review as with the actual projects. They question why some states should trump others simply because their well-positioned elected representatives can manipulate the appropriations spigots.
"There is certainly no guarantee that we're spending money wisely or appropriately or on the most critical projects. It's a political-patronage system rather than a meritocracy," said Steve Ellis, Taxpayers for Common Sense vice president.
For his part, Obama never seemed to share McCain's intense level of passion about earmarks, but he has agreed that the process needs reform. And he vocally opposed earmarks in the recently passed economic-stimulus package.
Still, administration officials have backed off from confronting Congress about the omnibus bill, which is needed to keep the government running and is left over from 2008, before Obama took office.
"This is last year's business. We just need to move on," Peter Orszag, Obama's budget director, said Sunday on ABC's "This Week With George Stephanopoulos."
Even the suggestion that Obama still wants to pursue earmark reform prompted pushback from a top House Democrat.
"I don't think the White House has the ability to tell us what to do," House Majority Leader Steny Hoyer, D-Md., defiantly told reporters this week.
---
I am pretty unhappy with Obamas lie on removing the troops from Iraq. He is talking 7 months to remove less then 10 percent of the troops from Iraq. He says 12,000 of the 135,000 U.S. troops in Iraq will be removed in September, which is 7 months from now. And if you consider the 17,000 troops Obama moved into Afthanistan last month the number of America troops as war has INCREASED under Obama!
Yes Republian Bush was an evil war monger, but Democrat Obama ain't much better!
Despite attacks, 12,000 GIs to leave Iraq by fall
U.S. announces military to pull back by Sept.
by Sinan Salaheddin - Mar. 9, 2009 12:00 AM
Associated Press
BAGHDAD - A total of 12,000 American and 4,000 British troops will leave Iraq by September, the U.S. military said Sunday, hours after a suicide bomber killed 32 people at the entrance of Baghdad's main police academy.
The blast - the second major attack to hit Iraqis in three days and the deadliest to strike Baghdad in nearly a month - was a bloody reminder of the ability of insurgents to defy security improvements and stage dramatic attacks as the U.S. begins to draw down its forces.
Maj. Gen. David Perkins said the troop withdrawals will reduce U.S. combat power from 14 brigades to 12 with some supporting units. The U.S. also plans to turn over 74 facilities and areas under its control to the Iraqis by the end of March as part of the drawdown. President Barack Obama has decided to remove all combat troops by the end of August 2010, with the remaining forces leaving by the end of 2011. The 4,000 British troops due to leave are the last British soldiers in Iraq.
There are about 135,000 U.S. troops in Iraq.
Remaining American forces will be repositioned in coordination with Iraqi authorities to ensure that the most dangerous areas of the country are protected, Perkins said.
Perkins insisted violence has dropped more than 90 percent and was at its lowest level since the summer of 2003. He said a recent spate of high-profile attacks, including Sunday's bombing, was evidence of an increasingly desperate al-Qaida in Iraq.
"Al-Qaida and other terrorists are still active," he said, adding that insurgents appear to be stepping up attacks to derail recent progress by the Iraqi government.
"It's indicative that al-Qaida feels threatened. They're feeling desperate. They want very much to maintain relevance," he said.
Extremists increasingly have targeted Iraqi forces as they take over the country's security. Baghdad's main police academy has been hit by several bombings. A suicide bombing there killed at least 33 people and wounded dozens Dec. 1.
The bomber on Sunday detonated his explosives as he drove his motorcycle into a group of people waiting near a side entrance of the academy.
Iraqi and U.S. forces sealed off the scene, allowing only ambulances and fire engines to enter. Nervous Iraqi troops fired in the air to prevent onlookers and reporters from getting too close. They accidentally shot at a fire engine but no casualties were reported, according to witnesses.
Haitham Fadhel, 24, said he was standing in one of three lines of recruits arriving for their first day of special guard training courses.
"We were feeling secure as we were waiting in a well-guarded area," he said. "Before the explosion occurred I heard a loud shout saying, 'Stop, stop, where are you going?' Seconds later, a huge explosion shook the area."
The recruit from the mainly Shiite neighborhood of New Baghdad was knocked unconscious and was wounded by shrapnel. He said he was lucky because the bomber struck a different line, but two of his friends were killed.
"I am just wondering how a big security breach can occur in such a secured area," Fadhel said. "I came here to get a job after four years of staying at home even though I graduated from Oil Institute ... but it seems that I have no luck."
Three medical officials and one police officer in the area where the bombing occurred said 32 people were killedand about 60 others were wounded.
Bomb kills 1 Canadian soldier in Afghanistan
By FISNIK ABRASHI – 2 hours ago
KABUL (AP) — A roadside bomb exploded in southern Afghanistan, killing a Canadian soldier and wounding four others, the Canadian Department of National Defense said.
The death Sunday comes as America's top general in Afghanistan said coalition forces were not winning the war in the south — the center of the Taliban-led insurgency and a region covered with opium poppies, the main ingredient in heroin.
The Canadian soldiers were patrolling inside an armored vehicle when the bomb exploded near them in Shah Wali Kot district of Kandahar province, the Canadians said in a statement late Sunday.
The latest death continues an upward trend in violence that has spread throughout Afghanistan the last three years. President Barack Obama's new administration has been trying to come up with a fresh approach to dealing with the Afghan war.
Obama last month ordered 17,000 more troops to Afghanistan to bolster the record 38,000 American forces already in the country. He has promised to increase the U.S. focus on Afghanistan as it moves away from Iraq, where the U.S. plans to draw down its forces.
Insurgents regularly use roadside bombs in their attacks on foreign and Afghan troops throughout the country. The number of roadside bomb attacks in 2008 increased more than 30 percent compared with 2007.
Southern Afghanistan is the center of the Taliban-led insurgency. Thousands of the new U.S. troops will be joining a British, Canadian and Dutch troops in trying to reverse the gains by the Taliban and expand governance and security.
Gen. David McKiernan, America's top general in Afghanistan, told the British Broadcasting Corp. on Monday that coalition forces were not winning the war in southern and parts of eastern Afghanistan, though he said progress was being made in the north and west.
"But there are other areas — large areas in the southern part of Afghanistan especially, but in parts of the east — where we are not winning," he said.
He said in many of those areas there wasn't enough of a sustained security presence to allow for improvements in governance.
"So these U.S. forces, this force uplift, of which the majority will be positioned in the southern part of Afghanistan, I think will change security conditions there this year," he said.
---
---
---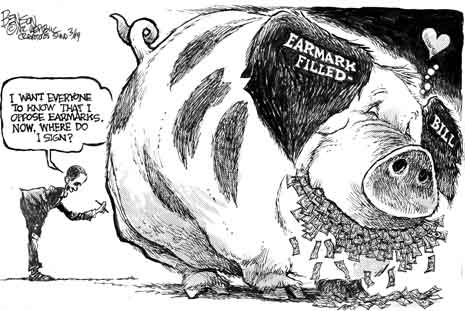 ---
---
---
---
---
---
---
---
---
---
---
---
---
---
---
---
---
---
---
---
---
---
---
---
---
---
---
---
---
---
---
---
---
---
---
---
---
---
---
---
---
---
---
---
---
---
---
---
---